Sponsor: Flying with your young child? You need CARES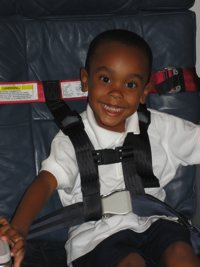 CARES is the FAA certified, 1 lb child aviation restraint that has become the traveling family's lifesaver! Designed specifically for air travel, CARES is an elegant, buckle and belt device that fits in a 6 inch stuff sack, installs on any size airplane seat in one minute, and keeps your child as safe as if she were in a car seat. It's for kids 22-44 lbs sitting in their own seats. These youngsters are oldenough to be in their own seats, but are too small for the seat beltalone to protect them. Their bodies cannot withstand the jolts that arecommon in routine transportation, much less emergency situations, andthey flail forward or slide beneath the seat belts if they are not heldsecurely in place.
CARES recently won one of only 8 "Good Buy 2008 Awards" from the Good Housekeeping Research Institute out of over 2000 products tested. It's the new way thousands of parents have discovered to keep their kids safe in the air without the schlep.
The Celebrity Baby Blog's Danielle reviewed CARES in December. Here's what she said:
It was very easy to install… To your child, it will look and feel like theircar seat. What I love about it is how lightweight and compact it is (1 pound,fitting in a 6" bag). So even if you haven't purchased a seat for yourchild (if they're under 2, you aren't required to buy one), you cantake this with you and cross your fingers that you'll have an emptyseat next to you.
Click to read the full review.

CARES retails for $74.95 and is available online and in several boutiques across the US and Canada.