Blessence Maternity's 'Adoption is the new pregnant' tee touches a nerve with CBB Readers
As adoption gains more exposure through celebrities like Angelina Jolie and Brad Pitt, Madonna, Meg Ryan, Sheryl Crow, Mary-Louise Parker these past few years, awareness and acceptance in mainstream America grows as does the availability of adoption-positive continues to grow as well.
We've previously written about Tiny Revolutionary's Chosen Child tee for kids, but when we posted about Blessence Maternity's new Adoption is The New Pregnant tee for adoptive mothers, a nerve was touched. A number of CBB Readers let us and Blessence know that they were offended.
Comments from CBB Readers called the shirt's designer "heartless bastards," and the shirt's message "offensive" and "flip… clever though it tries to be, totally diminish[ing] the first mothers of children who are adopted."
Click Continue Reading to read more comments from CBB Readers plus a response from Blessence's owner/designer AND take our polls.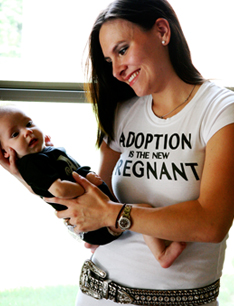 CBB Reader Gina wrote,
'Adoption is the newpregnancy' sure does make it sound like there is only one woman in theequation, and it's the one doing the adopting.
CBB Reader Gaia wrote,
Thisshirt is offensive on SO many levels. You're saying adoption is 'eh,no biggie,' you just sign some papers, and viola! Insta-family! Um,no. That's not the way it works.
CBB Reader Tish wrote,
Thedesigner of this shirt (and the retailers that sell them) arecollectively slapping pregnant and birthing women in the face….
CBB Reader Destiny, who placed her son for adoption six years ago, wrote,
Ican't imagine who came up with this idea and why in gods name theythought it would be such a wonderful thing for adoptive mothers. I knowfor a fact that my son's mother (his adoptive mother) would be just asoffended by this ridiculous shirt as I am.

ShaeLyn Werner, of Blessence Maternity, has responded:
Thank you expressing your concerns. We respect your opinion, andwelcome any and all feedback. Since the tee made its debut, we havereceived only letters of thanks and support from women of allcircumstance — those who have adopted, been adopted, or know someonewho is in the process of adopting a child in need.

The company's founder is adopted and has adopted siblings. Theslogan is not meant to offend, it is merely a celebration of the joy ofwelcoming a child into one's family, regardless of the biologicalorigin. The tee was created to honor adoptive mothers who are oftenoverlooked, simply because their "40 weeks," or more likely, years ofwaiting for their child to arrive aren't on public display.

As you know, many women are unable to have babies "the naturalway," but adopt children and love them no less than had they come fromtheir own seed. That is the premise under which the slogan wasdeveloped – in the spirit of love and equality for ALL children, ALLmothers, and ALL families – biological or not.

This young mother of 7 (she's 26) has a heart of gold, and her decisionto include a tee that supports adoptive mothers was based on her ownpersonal experience – and until this point, has received only lettersof thanks and support from women of all circumstance — those who haveadopted, been adopted, or know someone who is in the process ofadopting a child in need. In fact, at several trade shows, people haveapproached ShaeLyn and thanked her for acknowledging adoption in hermaternity line – one woman was moved to tears (an adoptee herself).

ShaeLyn too is adopted and has adopted siblings. The slogan is merely acelebration of the joy of welcoming a child into one's family,regardless of the biological origin. That is the premise under which"Adoption is the New Pregnant" was developed – in the spirit of loveand equality for ALL children, ALL mothers, and ALL families -biological or not.
What do you think of this shirt? (Please mention whether you are an adoptive parent or have placed a child for adoption.)
Take our polls!