Update: Contest: Win Petunia Pickle Bottom's Cross Town Clutch
Update:The winners are:
Sharone (whose last name is Pickle!) who said, "With a toddler and an infant still in diapers, the clutch will berperfect for any quick trips, although with 2 kids, nothings reallyquick. I can just pick up the clutch and not have a big bulky diaperbag to lug around along with 2 kids."
Tarryn who said, "I think that diaper clutch bags are so helpful when you are runningshort errands and just need enough for one or two diaper changes anddon't want to shlepp the large diaper bag which can be overkill! It canalso double as a stylish clutch long after my diapering days are over,which makes me happy! What's so special about this one is that is has abuilt-in changing pad which is ingenious!!"
Natalie who said, "

Clutchesare so useful especially now for me. My daughter is almost 2 and shedoesn't need quite as much when we go out. I get tired of luggingaround a big backpack…it's time I downsized."
---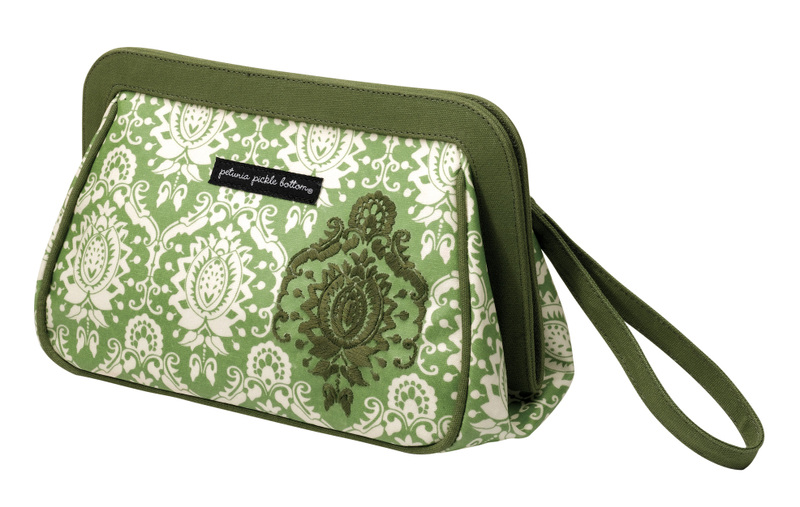 Petunia Pickle Bottom's amazing collection of diaper bags are carried by A-list stars throughout the world. Salma Hayek, Christina Aguilera, Keri Russell, Marcia Cross, Jaime Pressly and Gwen Stefani all have Petunia Pickle Bottom products in their baby arsenal.
Created by lead designer DeNai Jones, PPB's new Cross Town Clutchcollection was introduced for times when a larger diaper bag isn'tneeded. Perfect for a quick trip to the grocery store, café, orshopping, this bag helps moms get around quickly and easily. It's alsogreat for mothers with older children who don't necessarily need allthe things an infant might.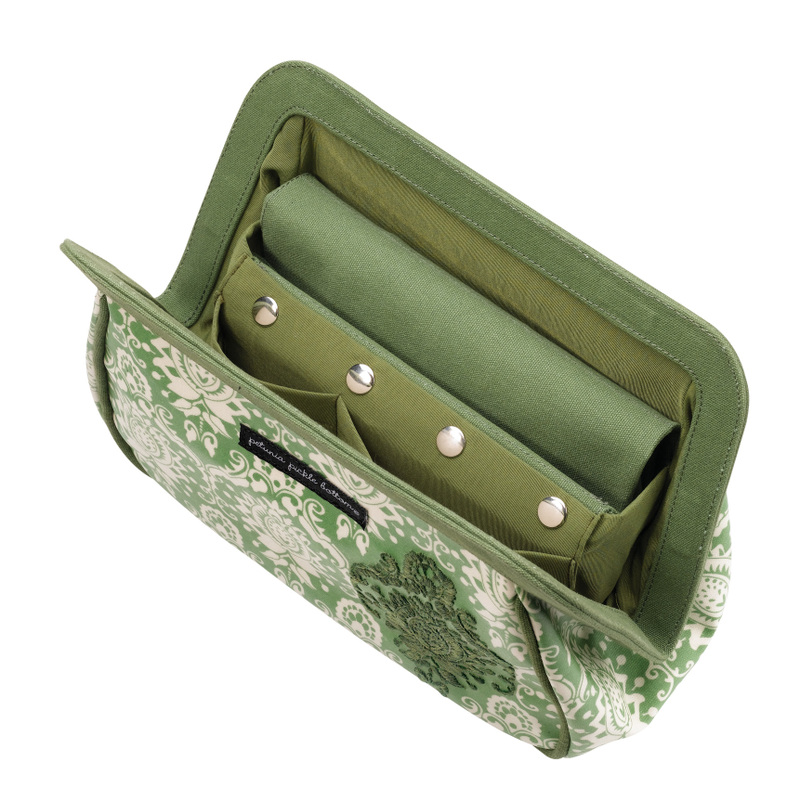 The grab-me-quick, easy-to-pack, Petunia Pickle Bottom Cross TownClutch offers all the ease and convenience of a traditional diaperchanger, but in a compact silhouette. Measuring just 12 x 8 x 5, andweighing a sprightly 4 lbs, don't let the Cross Town Clutch's efficientsize fool you. The clutch is loaded with features that make it awardrobe staple.
These include a diapers/wipes pocket; an ointment/cream pockets; afold-out, snap-out, wipe-able changing pad; wristlet strap; and awipe-able, water resistant PVC-Free coated canvas fabric with gorgeoushand-embroidered accents. Valued at $68, the Idealic Istanbul style is a gorgeous shade ofemerald green with a white batik inspired medallion motif and Oliveembroidery detail.
Enter to win one of three Petunia Pickle Bottom Idealic Istanbul Cross Town Clutches. Email the following info to celebritybabyblogATgmail.com (make sure you replace AT with @).
Your full name, mailing address, and email address.
Why do you think diaper bag clutches are so helpful?
If you could pick any one Petunia Pickle Bottom bag to have, what would it be?
Make sure you put "PPB Cross Town Clutch" in the subject line in order for your entryto be counted.
Any entries that don't include all of the info will not be counted. The contest closes March 18 at 7 am EST. (For terms & conditions, click here.)