Update: Rumor: Tobey Maguire and wife Jen Meyer expecting second child?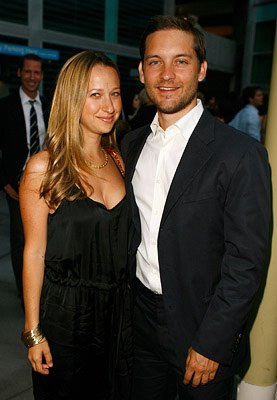 Update: Us Weekly has a source who denies that they are expecting. An independent source whom we trust recently told us that Jen and Tobey are indeed trying for another child, so whether it's true or not, we certainly wish them luck on a 2008 or early 2009 baby!
Originally posted 5:30 pm: In Touch Magazine is reporting that actor Tobey Maguire, 32, and his wife, jewelry designer Jennifer Meyer, 30, are apparently expecting their second child together this October. The new baby will join daughter Ruby Sweetheart, 17 months.
A friend of the couple told the magazine,
Jen and Tobey are over-the-moon happy. Since they already have a daughter, they would love a little boy, but of course they would be just as thrilled with another daughter.
The friend also added that,
Jen's doing great. She had an easy pregnancy last time around, so this time it should also be a breeze.
Check out photos of the couple with Ruby from Sunday.
Source: In Touch
Thanks to CBB readers Jenny, Inge and Nichols.