Update: Contest: Win Sweeney Todd 2-Disc Special Collector's Edition DVD
Update: The winners are: Natalie W., Desiree D., Elizabeth M., and Beth B.
---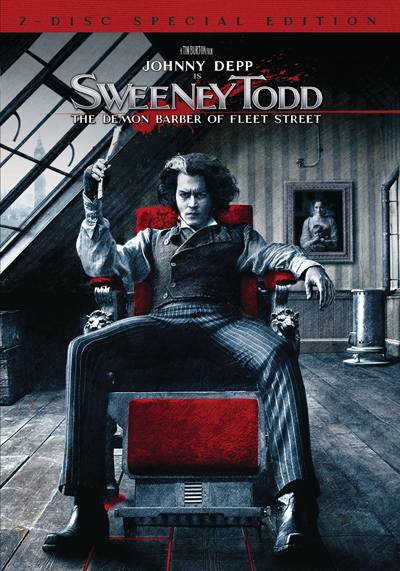 Called "thrilling and inspired" (Leah Rozen, People) and "bloody great" (Richard Corliss, Time), director Tim Burton's tour de force re-imagining of Stephen Sondheim's Tony® Award-winning Broadway hit SWEENEY TODD debuted on DVD April 1, 2008 from Paramount Home Entertainment. Cited as one of the top 10 movies of the year by over 100 critics, the visually stunning film won the Golden Globe® for Best Motion Picture—Musical or Comedy and an Academy Award® for Best Art Direction.
Johnny Depp earned a Golden Globe for Best Performance by an Actor in a Motion Picture—Musical or Comedy as well as an Oscar® nomination for Leading Actor. Depp is "simply stupendous" (Peter Travers, Rolling Stone) as the infamous demon barber aided in his quest for revenge by his trusty razors and Helena Bonham Carter as the ever-practical Mrs. Lovett. The film also stars Alan Rickman (Harry Potter and the Order of the Phoenix), Timothy Spall (Enchanted) and Sacha Baron Cohen (Borat). The SWEENEY TODD two-disc DVD is gushing with special features, including in-depth looks at the musical and its history, making the film, Sweeney's London and designs for a demon barber, Moviefone Unscripted with Tim Burton and Johnny Depp, a press conference, photo gallery and more. The film also will be available on a single-disc DVD.
The SWEENEY TODD two-disc and single-disc DVD are presented inwidescreen enhanced for 16:9 TVs with Dolby Digital English 5.1Surround, French 5.1 Surround and Spanish 5.1 Surround and English,French and Spanish subtitles.
The two-disc DVD includes the followingspecial features:
o Burton + Depp + Carter = Todd
o Sweeney Todd Press Conference, November 2007
o Sweeney Todd is Alive: The Real History of the Demon Barber
o Musical Mayhem: Sondheim's Sweeney Todd
o Sweeney's London
o The Making of Sweeney Todd The Demon Barber of Fleet Street
o Grand Guignol: A Theatrical Tradition
o Designs for a Demon Barber
o A Bloody Business
o Moviefone Unscripted with Tim Burton and Johnny Depp
o The Razor's Refrain
o Photo Gallery
o Theatrical Trailer
The single-disc DVD includes:
o Burton + Depp + Carter = Todd
Enter to win one of four Sweeney Todd 2-Disc Special Collector's Edition DVDs ! Email the following info to celebritybabyblogATgmail.com (make sure you replace AT with @).
Your full name, mailing address, and email address.
Did you see the film in the theater? If so, what was your favorite song?
If you haven't seen it yet, what have you heard about the film?
Make sure you put "Sweeney Todd" in the subject line in order for your entryto be counted.
Any entries that don't include all of the info will not be counted. The contest closes tomorrow at 7 am EST.