Singer Chico talks about having more children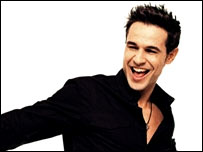 British pop singer Chico, 37, who's best known for being on The X Factor show, said on his official webpage forum that he would love to add more children to his brood. He and girlfriend Daniyela 'Danny' already have daughter Lalla-Khira, 22 months.
I would love to have more children — I want loads and loads and even if I don't have my own I will adopt. Danny and I are spiritually married so it's just the church one to go but to be honest if I do [get married], it will be a private affair with a few friends — Lalla will be the bridesmaid on a beach in Thailand somewhere.
Source: Chico's Official Web Site
Thanks to CBB reader Jessica.