Saira Khan prepares for baby's arrival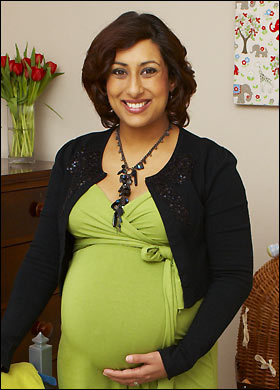 Beat the Boss host Saira Khan, 37, who is expecting her first child with her husband, Internet consultant Steve Hyde, been busily preparing the couple's home for their impending arrival later this month.
Steve lived here before we were married so it felt quite masculine when I moved in, with leather sofas and bare wooden floors. But once I knew I was expecting, I wanted to have a clear-out and gave the place a lot more colour with new crockery, rugs and cushions.
She has also turned the couple's master bedroom in to a family retreat because "It's where I'll be spending a lot of time with the baby, so I want to make it perfect."
Apart from the nursery necessaries, pictures of exotic animals and ornamental elephants, Saira says she is going to keep to the room's original nature.
I'm only kitting it out with the baby basics, like a crib and play mat, although my antique mahogany drawers have become home to a night light and building blocks. I love the jungle scene. My dad, Jan, was born near the Himalayas. I grew up in Nottingham, and he would tell us tales about walking to school and coming across snakes and monkeys jumping on the roof of their house. It sounded so amazing, and I want my baby to be influenced by it all, too.
As owner of the company Miamoo, it means Saira has plenty of goodies in place for when the little one arrives. These products are alongside luxe floral fabrics, pretty accessories and artfully arranged cushions in the room.
Saira and Steve are keeping the baby's sex a delivery surprise.
Source: Fabulous Magazine