British model Laura Bailey talks about motherhood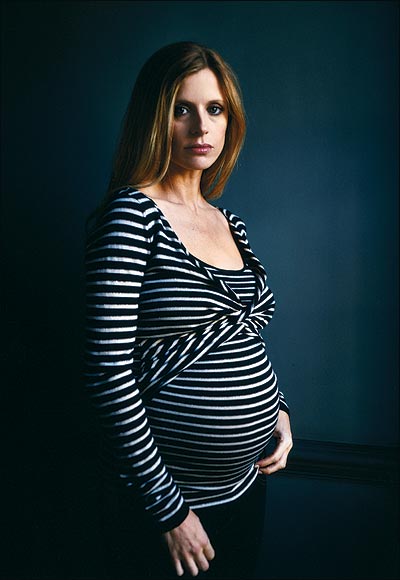 British model and actress Laura Bailey, 36, who is expecting her second child with partner Eric Fellner, 47, in June, talked to The Telegraph about pregnancy, motherhood and modeling the online maternity clothes range Mama-la-mode. She and Eric already have son Luc, 3, and Eric has three sons with ex-wife Gaby Dellal.
On being pregnant again:
My future is here [patting her bump] and with my boyfriend and Luc. It's odd, though. I can't remember anything about babies at all. It's as if Luc was never a baby, so it's all going to feel very new to me.
Click below to what Laura has to say about Luc, modeling and being pregnant.
On the good sides of being pregnant:

I've been to a casting. I get curves when I'm pregnant. I'm usually flat-chested, but now I've got boobs, so I'm finally the right shape for Vivienne Westwood. I feel huge, though.

On not wearing Mama-la-mode herself:

Actually, I don't wear maternity clothes. I just wear my usual clothes in larger sizes. I do think Mama-la-mode is great, though. The clothes are comfortable and very stylish, and all you need to do is go online. It's so easy.

On not working while pregnant:

Modeling is an unpredictable profession. Sometimes I am at home with Luc a lot; other times I'm off traveling on a shoot. But I love working. I think it makes me a better mother and a nicer person. Modeling maternity wear is a happy challenge. I work a minimum amount while I am pregnant. I try to stay fit and healthy. I want to savor this pregnancy as it is probably my last. It's my boyfriend's fifth child.

On losing baby weight quickly:

I burn off so much energy running around after him [Luc]. I'm sure it will be the same this time. That's how it is with children, isn't it?

On how Luc's birth organized her life:

I used to be very shoddy. I was always late. I let people down. I was messy and all over the place, and now I just can't be. I'm on time and ready to work, and then I want to go home to Luc. I am no longer that cool, fashionably late person.
Source: The Telegraph
Thanks to CBB reader Nicole.
Laura is wearing a Mama-la-mode Temperley Bella Mini Tunic (£394).