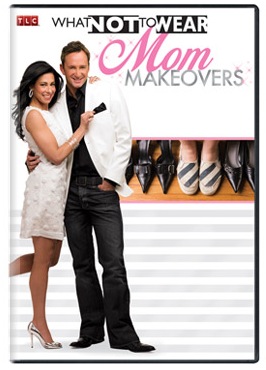 Celebrate Mother's Day with 13 amazing Mom makeovers when "What Not To Wear: Mom Makeovers" arrives on DVD April 15 from Genius Products and The Learning Channel. On a mission to help women who are often last on their own priority lists, "What Not To Wear" provides life-changing fashion intervention to each mom that has been nominated by friends/family as someone who desperately needs a style overhaul.
After secretly filming the fashion-offending candidate for weeks prior to the show, allowing the stylists to evaluate their crimes against fashion – from oversized tees and baggy sweats to the infamous "mom jean" – the moms are then ambushed and learn what is in store for them and "What Not To Wear." With individual attention and an emphasis on dressing the body they have now, the stylists teach moms how to update their look, maximize their best assets and develop their own personal style.
From a 25-year-old, first time mother, to a seasoned mom with four kids, "What Not To Wear: Mom Makeovers" gives fashion relief to families of all sizes. Entertaining as it is informative, "What Not To Wear: Mom Makeovers" 2-disc set contains 13 episodes as well as a special bonus episode, "What Not To Wear: Pageant Rewind" and will be available for the suggested retail price of $24.95.
Win a copy of the What Not To Wear: Mom Makeovers DVD! Click Continue Reading for the details!
Enter to win one of five What Not To Wear: Mom Makeovers DVDs! Email the following info to celebritybabyblogATgmail.com (make sure you replace AT with @).
Your full name, mailing address, and email address.
Would you ever want to featured on the show, What Not To Wear?
What celebrity would you most want to see on the show? Why?
Make sure you put "What Not To Wear

" in the subject line in order for your entryto be counted.
Any entries that don't include all of the info will not be counted. The contest closes April 15 at 7 am EST.