Update: Richie Sambora arrested for DUI; Ava was a passenger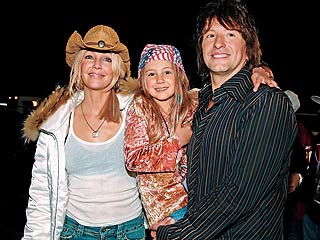 Update: It has been learned that police have recommended that Richie be charged with child endangerment as a result of the arrest. His tentative arraignment is set for May 7th.
Originally posted March 26th: Richie Sambora was arrested for driving under the influence (DUI) last night in Southern California and his 10 ½-year-old daughter Ava was a passenger in the vehicle, People has confirmed. A law enforcement official tells the magazine that there were three females, one adult and two juveniles, traveling with Richie at the time of the 10:52 p.m. traffic stop.
The 48-year-old guitarist for the music group Bon Jovi entered a residential treatment facility in 2007 for alcohol abuse.
Ava is Richie's daughter with ex-wife Heather Locklear. TMZ reports that Heather was called after Richie failed multiple field sobriety tests and she agreed to release her daughter to the adult female occupant of the car, identified by People as Richie's girlfriend. Richie and Heather parted ways in 2006 after 11 years of marriage; Their divorce was finalized last year.