Prior to delivering baby, Jodie Sweetin talks about the power of motherhood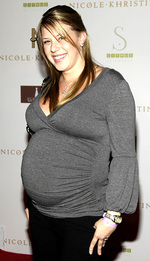 In a blog entry for Graco two months before becoming a mom, herself, actress Jodie Sweetin marveled at the awesome power of motherhood.
There is a life waiting to be lived in me that I can't possibly imagine…How blessed are we as women to have this gift?! It is a power I never dreamed I would feel.
Although she only welcomed daughter Zoie on Saturday, Jodie, 26, will no doubt be logging some serious hours in her nursery. From the sound of it, the room was a source of comfort for Jodie while pregnant, as well. She told Graco that when she found herself worrying about Zoie's impending delivery, or experiencing "spontaneous hysterics over something like a sweet card from my husband or lost sock in the dryer" she would visit the nursery and feel instantly calmed.
When I look at the crib we built and imagine the little person that's going to fit in there…I can't wait to wrap her up in a blanket and smell her little sweet smell. To love and protect something with all of my being as a person, as a woman, as a MOM! I just want to say to all the pregnant gals, sleepless moms and the husbands who we couldn't live without, ROCK ON! We are doing the most important work in the world!
Zoie is the first child for Jodie and her husband Cody Herpin.
Source: Graco