Update: Newborn daughter of Christian singer Todd Smith passes away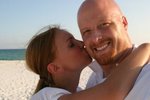 Update: Angie has posted photos of daughter Audrey and the family at her blog, as well as a letter to her late daughter.
Originally posted April 7th: We are saddened to report that Audrey Caroline Smith, the newborn daughter of Selah member Todd Smith and his wife Angie, passed away Monday, April 7th, just hours after her birth at 4:31 p.m. A family friend posted on Angie's blog for Audrey,
Everyone in the family is doing really well, all things considered, and they fervently believe that the time they had with Audrey was miraculous.
Todd and Angie became aware of numerous complications at the 20 week mark, which led the couple to believe that Audrey would not survive long after her birth. They decided to continue with the pregnancy. To read about Audrey's journey, please click here.
Audrey leaves behind her parents and sisters Ellie, Abby and Kate.
Our thoughts are with the Smith family at this time.
Source: Bring the Rain
Thanks to CBB readers Annie and Celeste.