Introducing Julie, our newest reviewer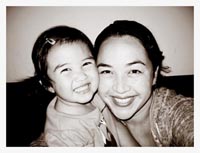 I live in San Diego, CA with my husband Mark, our 3 year old daughter Paige (PJ), our pug Macy and our Boston Terrier puppy Zoe. I'm a photographer, and last year I finally got the courage to leave my day job of 5 years to start my own photography business – www.Lot116.com. It's been AMAZING and one of the best things I've ever done. To love your job, meet awesome people, be your own boss, choose your own hours AND make money is dream come true. Before that, I worked in the skateboarding/snowboarding industry for DC Shoes.
My daughter Paige is 3… going on 10. She's been called a "firecracker" more than a few times. She is hilarious, yet can be a pain in the butt at the same time. She LOVES dressing up and has an insane amount of clothes and shoes. What can I say…. buying for a little girl is WAY too easy! I'm a total shopaholic and bought pretty much every baby item around when PJ was an infant. I would basically buy and test things out and either return them or sell them until I found the ones that worked for us. I guess you can say that I've already been a "reviewer" for years haha.