Ernestina Sodi says daughter and son-in-law 'adore' each other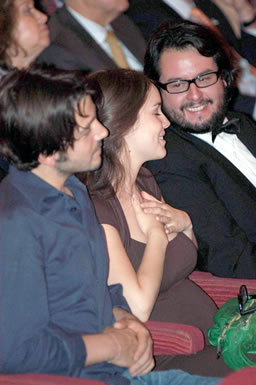 Ernestina Sodi, mother of Mexican actress Camila Sodi, 21, who is believed to be about six months along with her first child with husband, Mexican actor Diego Luna, 28, recently appeared on the tv talkshow La Oreja, to discuss her daughter's pregnancy. Ernestina couldn't contain her excitement over the baby's anticipated arrival, calling her grandchild a "true gift from God".
God willing everything goes fine, a baby is always a gift from God.
When asked about the relationship between Camila and Diego, Ernestina had nothing but praise for her daughter and son-in-law.
[Diego] is marvelous, marvelous, he adores her…they adore each other!
Ernestina is singer Thalia's sister. Camila and Diego were married in February 2008, and although the couple has yet to officially announce the pregnancy, recent pictures of Camila's belly at a Mexican festival confirmed it!
Source: People en Espanol