Update: Contest: Win Alvin and the Chipmunks original cartoons on DVD!
Update: The winners are:
Melissa who said her favorite chipmunk is Theodore because "he is just so cute"
Allison who also loves Theodore
Amelia whose favorite chipmunk is Alvin because he's cool, but said she loved the Chipettes
Kimberly whose favorite is Simon because "when I was a kid, I was the smart, dorky kid with glasses and I couldrelate. I thought Theodore was cute because he was the little chubby one."
---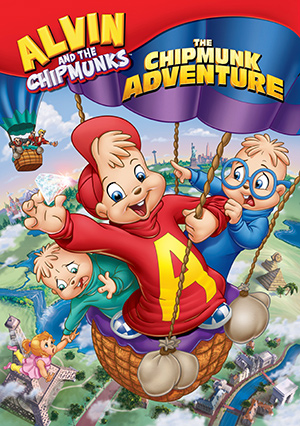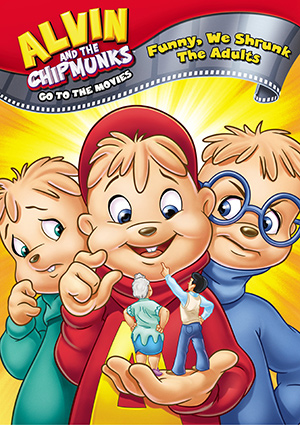 Get set for high-flying, song-filled fun as Alvin, Simon and Theodore embark on uproarious escapades in ALVIN & THE CHIPMUNKS: THE CHIPMUNK ADVENTURE Special Edition and ALVIN & THE CHIPMUNKS GO TO THE MOVIES: FUNNY, WE SHRUNK THE ADULTS, from Bagdasarian Productions and Paramount Home Entertainment.
The crooning trio's first-ever feature film, THE CHIPMUNK ADVENTURE takes off as Alvin hatches a foolproof scheme to realize The Chipmunks' dream of traveling the world—in a daring hot air balloon race! From the tropics to the artic, from wild to mild, from peril to paradise, it's a world-class voyage chock full of incredible fun and unforgettable songs including fan favorites "Wooly Bully", "Girls of Rock 'N' Roll" and "My Mother". The new collectible Special Edition DVD has been digitally remastered from the original 35mm film and includes a CD featuring 11 classic tracks.
You can win both DVDs! Click Continue Reading for more info!

ALVIN & THE CHIPMUNKS GO TO THE MOVIES: FUNNY, WE SHRUNK THE ADULTSincludes three episodes from the classic series from BagdasarianProductions that follow the trio on an amazing trip through Hollywoodas they spoof favorite big-screen comedies in "Back to Our Future," "Bigger," and "Funny, We Shrunk the Adults."
The ALVIN & THE CHIPMUNKS: THE CHIPMUNK ADVENTURE Special EditionDVD is digitally remastered and presented in full screen format withDolby Digital English 5.1 Surround and English Stereo. The DVDincludes original artwork from THE CHIPMUNK ADVENTURE plus a CD withthe following music tracks:
· The Chipmunk Adventure Theme
· I ,Yi, Yi, Yi, Yi/Cuanto Le Gusta
· Off To See The World
· Weekend in France, Italy, England, Amsterdam, Greece…
· The Girls of Rock 'N' Roll
· Flying With The Eagles
· Getting Lucky
· Mexican Holiday
· My Mother
· Wooly Bully
· Diamond Dolls
Each DVD will be availablefor the suggested retail price of $16.99 U.S./$19.99 Canada.
Enter to win each of the Alvin and the Chipmunks DVDs (four total prizes) . Email the following info to celebritybabyblogATgmail.com (be sure to replace AT with @).
Your full name, mailing address, and email address.
Do you have a favorite Chipmunk?
Did you take your kids to see the live action version of Alvin and the Chipmunks starring celebrity dad Jason Lee?
Make sure you put "ALVIN!!!" in the subject line in order for your entryto be counted.
Any entries that don't include all of the info will not be counted. The contest closes tomorrow at 7 am EST. (For terms & conditions, click here.)