Pregnant Tina Hobley wary of hospitals following MRSA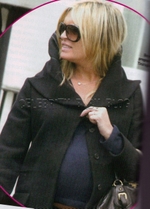 Four years ago, 35-year-old Tina Hobley had the scare of her life when treatment she received for a broken wrist led to a bout with the deadly hospital superbug MRSA. The incident, which left her in danger of losing the use of her arm, also left her with a lingering, palpable fear of hospitals. Its a fear that Tina says she's being forced to deal with now as she prepares herself for the arrival of her second child in "a matter of days," the UK's Daily Mail reports. MRSA, a staph infection that eats away at skin and muscle tissue, was "incredibly painful, and I have a high pain threshold," Tina says.
It's the worst pain I've ever felt, far worse than giving birth.
Tina adds that her husband, Oliver Wheeler, is "very worried" about her upcoming hospitalization. To help alleviate their collective anxiety, Tina says she's focusing on preparing for the baby, which will join Tina's 8-year-old daughter Isabella at home.
I'm keeping busy, getting things ready for the baby…I try not to think about [MRSA] too much, but it's always there, at the back of my mind.
Source: Daily Mail