John Cho and wife Kerri expecting first child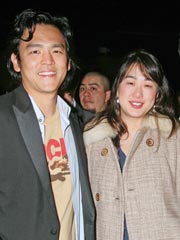 Harold and Kumar star John Cho, 35, and his wife, actress Kerri Higuchi, are expecting their first child together in May, a baby boy. John shared with People that the couple is in the process of moving into a new home, and that he is a bit overwhelmed with the prospect of fatherhood.
I'm really excited — and scared. They're just going to give you the baby, and then you have to take ithome. There aren't any doctors around telling you what to do. That thought is really scary to me.
John's latest film, Harold and Kumar Escape from Guantanamo Bay, opens April 25th.
Source: People