Melissa Joan Hart talks about her pregnancy weight gain, fitness, and her boys in OK! Magazine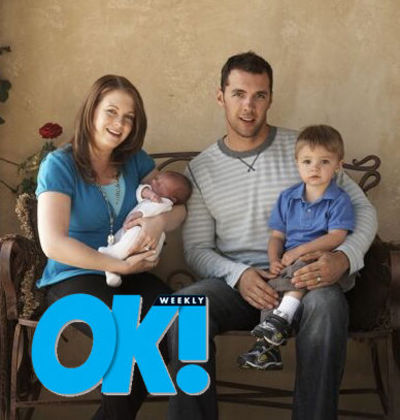 Melissa Joan Hart is featured in OK! Magazine this week with her family, which includes husband Mark Wilkerson of Course of Nature and sons Mason Walter, 2, and Braydon 'Brady' Hart, 4 weeks.
The 31-year-old actress chats with OK! about why she practiced hypnobirthing, choosing Brady's name, Mark as a father, differences in her pregnancies, losing the baby weight, her next step career-wise, and more.
Click below for the photo and interview highlights.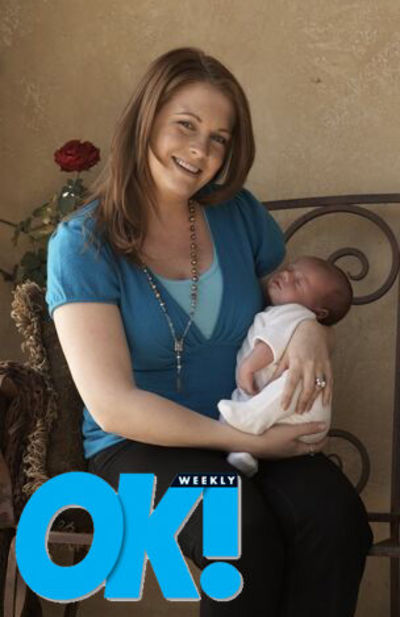 On her decision to do a drug-free birth:
My friend Kellie Martin [who had her own natural birth] is the one who introduced me to the whole hypno-birthing idea. It is aspecial way of getting through a pregnancy without an epidural orinducing.

She hiked every day of her pregnancy, so we hiked FrymanCanyon together during my pregnancy. My friends were big inspirationsto me. I just kept thinking, "If she could do it, I can do it!"

I'mvery proud that I was able to get through it, but it was extremelydifficult. I'm not sure I'd want to do it again!
How she's feeling since giving birth:
Myrecovery was so much better this time around. I did the birth drug-free,and I'm not sure if it is because I did it drug-free or because he wasmy second baby, but I am up and about much easier this time. Last timeI was unable to get out of bed for about eight weeks!

Both pregnancieswere traumatizing. I've just realized there is no way to bring a babyinto the world and have it not be a traumatic experience. After bothall I could say was "intense." That is really the only word that sumsit up! It's just a difficult thing to do.
Choosing Brady's name:
With Mason, we were really decided. We were down to Mason and Desi, and then my good friend Jaime Presslynamed her child Dezi and we decided not to use it, even though she saidit was okay. So Mason it was.

With Brady, we had about six differentnames and then we'd throw another one into the rotation every couple ofweeks. It was finally a combination of Braedin, a name I loved, andBraylin, a football player Mark loved.

So Braydon it is, but we call himBrady.
On Mason and Brady:
Ijust cried when Mason walked into the delivery room. The moment Bradywas born I was just dying for them to meet each other. It was so greatto say, "This is your brother!"

It was so wonderful for Brady tofinally be here and for Mason to finally understand all the things wehad been talking to him about. Now he's a big brother and he gets it.
On all her boys:
I'mso in love — I had no idea I could love more and with Brady, I am ableto love even more. I have these three amazing boys in my life– sohandsome and fun!
On Mark:
Ihave this wonderful, handsome husband who is a really amazing father.My husband is a man's man. I've never seen straight men have a mancrush the way they do on my husband. They will constantly say, "Willyou have your husband call me?"

He is up every morning at six withMason, makes breakfast, makes me breakfast for whenever I get up — thedogs are fed, the pots are clean. He really takes care of things. Inever expected to have this much help!

Hewouldn't read any of the daddy books or anything. I'm the oldest ofseven, he's the youngest of three. And somehow, he picked it all upjust like that. He's just so innate. Go figure!
More kids?:
Iwant to give these two some attention and some time. I would love morekids though — I'd love two little sisters for these guys. I want towait until my late thirties though. Mark would probably like to stop atthese two or maybe three, but I came from a big family so I would lovefour.

I'm not sure I want two more births though, so we may have toadopt at one point! I need some more time to forget this experiencethough. I think you just go, "Okay, this is going to be rough for about24 more hours and then I'll be okay!"
On the differences in her pregnancies:
Therewere big differences. I think the only thing the two pregnancies had incommon is they took us completely by surprise!

First time around, I wasso scared by everything and was so inconvenienced. I didn't really knowhow to picture a baby inside me. I only saw the outward things. I wasfat, I couldn't move the way I wanted to, I had heartburn, my feethurt, it was very awkward. I was so scared and so I just laid in bedand ate a lot.

The second time, I was chasing a 2-year-old all over theplace, lifting 30 lb. Mason and carrying him around and I was workingand trying to hide it from the industry for the first trimester.Sucking it in and trying to eat really healthy so I didn't gain toomuch in the first 20 weeks really made a difference this wholepregnancy.
The differences in her weight gain with each pregnancy:
Igained 20 less pounds — the first pregnancy I gained 55 pounds and thesecond pregnancy only 35 — and I knew what to expect a little bit more.We had all the gear already. We didn't have to do any of that legworkthe second time around.

I also worked out all the way through thispregnancy. The first one, the only exercise I got was walking down toget myself a bagel around the corner! This time I did Pilates until thelast two weeks of my pregnancy.
On being anxious about gaining weight:
Iwas extremely nervous about the weight because I was due in the middleof pilot season and here I am trying to get a new show on the air. Iwas also doing this movie [Holiday in Handcuffs, ABC Family'shighest-rated original telecast ever] and truthfully, I have heard ofpeople being fired from projects before for getting pregnant and I wasreally worried.

It took about 10 months [to lose the weight with Mason]. It took me awhile since I got off to such a rough start. Ikicked it off with a two-week fast. And then having a young kid, youonly get to sit down and eat for so long so my portions just gotsmaller by default. You really have to eat quick!

Now, [with Brady,] I'm back in action — I'm ready to work. I can puton the Spanx. I've got 20 more pounds to lose, but I'm working hardtowards that and I'm not worried.
On her workout plan:
I'm creating a workout plan with my trainer, Mark Harari,at Pulse Fitness Studio. We're trying to balance how much I hate cardiowith the things I enjoy a bit more! I really want to focus on muscletone. Last time I lost so much weight chasing after Mason, but I didn'thave any sort of definition.

It is all really a matter of being carefulwith breastfeeding as well — I need to make sure I'm eating enough andnot working out too much so I can still be h
ealthy enough to breastfeed.
Choosing to join the Fresh Mommy post-natal food delivery service:
Iwas really interested in the program because all of the meals arebalanced to give mommies what they need while they are breastfeeding. Ithink a lot of post-pregnancy diet plans are really focused on losingthe weight, but this keeps my first priority straight — being able tostay healthy enough to breastfeed my baby.

I have been eating a lot ofcupcakes and things though so I am a little nervous to make this switchto salads and healthy things! [laughs] The delivery comes once a day –three meals, three snacks and a small dessert — so everything is setfor the day. So far it has been really tasty and I've had severalfriends just rave about it.
On if Mason, who is almost as old as Melissa was when she started in entertainment, wanted to act:
I'dsay that's fine, but I always want to stress education with them. Hewould need to finish high school and at least attempt college. Iwouldn't want to be a hypocrite — [I dropped out of NYU before I finished my degree] — but I would want them to at least give theireducation a shot.
Melissa's next step career-wise:
Mygoal is to have another show. I'd love to have a sitcom. That is thebest schedule in the business for a mom.

I think I'm a little spoiledafter producing my own show. After having a say in who gets cast, whatthe music is, what I wear, it would be hard not to have any input. Butif the right project came along, I would go with it.

I just want to dosomething really funny because there is nothing really funny on TVright now. Mark and I are still watching reruns of Seinfeld and Friends because we can't find anything funny anymore. I love The New Adventures of Old Christine,but it looks like that might be gone soon. You're not looking forwardto anything right now. There needs to be a renaissance on televisionand I'd love to be a part of it.

What I've really discovered about mycareer is that I have the greatest fans — people are constantly writingto ask when I'm going to do something again.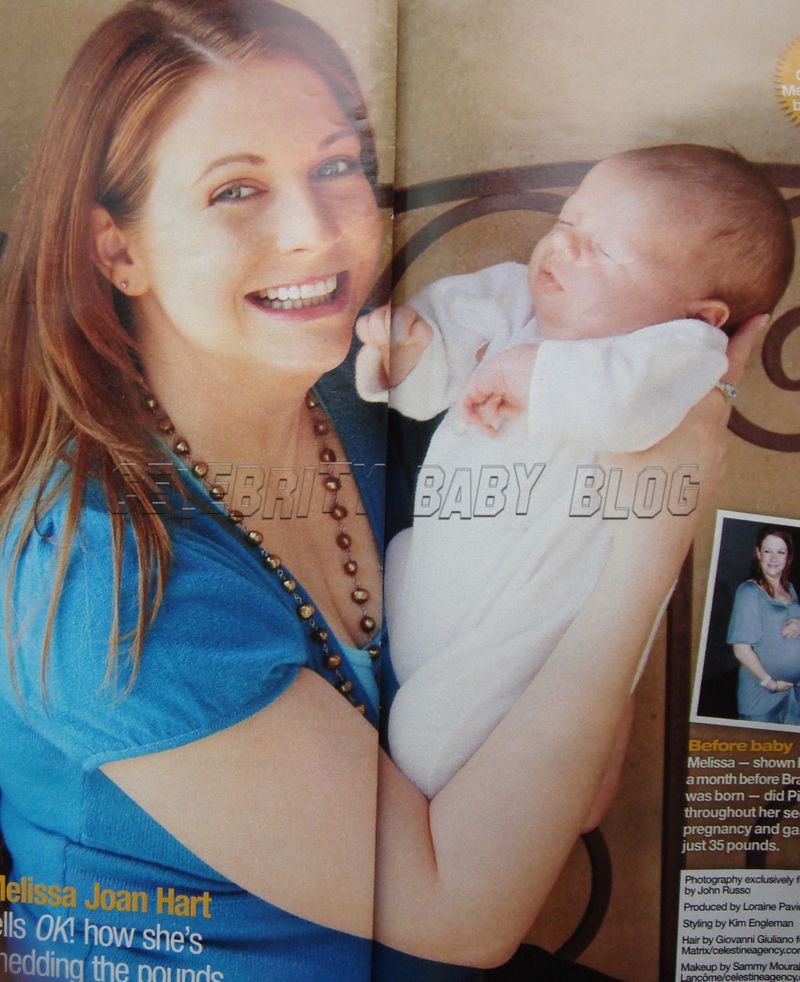 Source: OK! Magazine, April 21st issue
Photos by John Russo.
Mason wears Stride Rite's Baby SuperBall Hook & Loop II in graphite/silver ($52).