Hollywood hosts the "Sweet Petite and Tiny Treats" Children's Fashion Show
by CBB fashion reporter Tracy: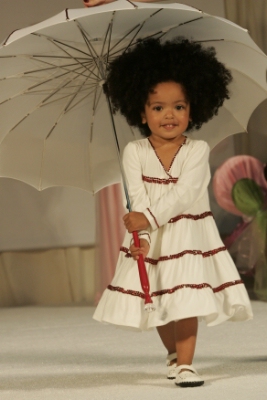 April 8th at Social Hollywood on Sunset was an afternoon chock-full of candy couture as the "Sweet Petite and Tiny Treats" runway show previewed the hot toddler fashion items to be showcased at this weekend's premiere baby exposition, Baby Celebration Los Angeles, April 12 and 13, at the Los Angeles Convention Center.
The Candy Land inspired show, artfully designed by stylist Joey G., delighted the audience with fresh designs from more than 30 children's brands and boutiques, including Sandbox Rebel, Hopscotch Designs, Dandy Social Club, Kicky Pants by Innovative Baby, Kaiya Eve Couture, Baby Lulu, and Obli Organics among others. The lines presented both their spring and fall collections worn by models eighteen months to five years old and set against the backdrop of a magical candy-coated wonderland.
The afternoon's runway show-stopper was a luxe long sleeve cotton dressin diamond white embellished with garnet crystals, complete with acoordinating crystal emblazoned parasol (pictured left). Both were created especiallyfor the event by Kicky Pants by Innovative Baby.
Click Continue Reading for the entire fashion report.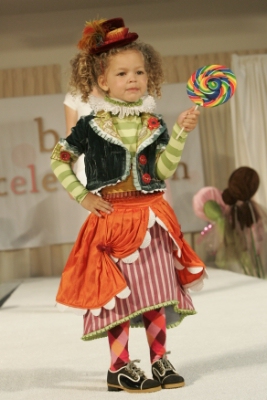 Not to be outdone in the special creations department, Dandy Social Club exquisitely blended argyle prints with stripes and artfully layered velvets over satins, transforming their his and her runway models into rock star tots from somewhere over the rainbow (pictured left).
If their strong presence on the runway is any indication, logo tees, statement tees and rock tees are as popular as ever with the 6 and under set. Urban Youngster's "Made from Scratch" tee innovatively layered over the Jailbird romper by Kicky pants was a huge hit. Be on the look out this season for boy-friendly toddler tee brands SlickSugar, Zutano, Little Rulers, and Valize Designs.
Manny & Simon's "Green Turtle" tee popped in bright green that boys and girls can wear equally well, especially when paired with ultra soft shorts like Kicky Pants' "Bamboo Bottoms," which are made from (you guessed it) bamboo.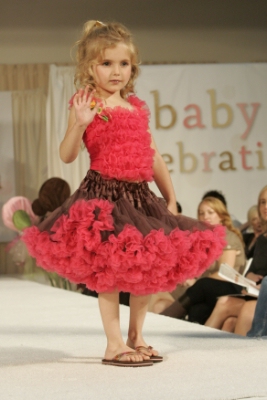 Ruffles ruled the runway with Kaiya Eve Couture's iconic pettitop in raspberry red, complimented by their original pettiskirt in warm chocolate brown with a profusion of raspberry-tinted under ruffles (pictured left). Each pettiskirt requires approximately 3 yards of nylon chiffon to create and the result is nothing short of fairy princess perfection.
Ruffles were repeated when toddler favorite Baby Lulu showcased its spring line. The audience favorite appeared to be the dainty "Ruffle Tank Dress" from the Cotton Candy line. The ballet pink bodice set off by aqua blue, tea length skirting was delicately adorned with tiers of subtle ruffles which were repeated on the dress' shoulder straps and within the flower medallion pairing that adorns the shoulder.
Another Baby Lulu favorite from the Cotton Candy line was the knee length, A-line "Candi" dress in a fresh peach hue with empire waist, available in sizes 12 months to 6x. The runway model wore tennis shoes, but the outfit could easily take on a dressier tone paired with simple strap sandals.
Lastly, special mention goes to Sandbox Rebel, the new line by designer Jodi Lee, which is destined to rule the playground. Their punk meets rockabilly attitude was clearly reflected in their Riot Collection, which graced the runway with the "Lassie Dress," "Hipster Pants," and the "Sid Vest." Lee prides herself in her handmade pieces and accommodates special orders and fabric combinations. It's no wonder Good Charlotte's Joel Madden recently purchased a Sandbox Rebel wardrobe for his little rocker Harlow Winter.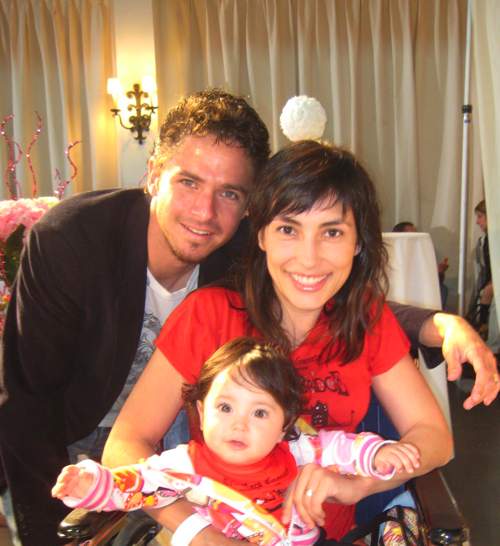 A surprise "treat" was the appearance of actress Iyari Limon (Buffy the Vampire Slayer, Death by Engagement)in the audience, accompanied by her husband Alejandro and her gorgeousdaughter Kimaya. This marked the actress's first public outing sincethe birth of her daughter last October. Iyari remarked that all therunway fashions were beautiful and would all be great choices for herinfant daughter.
Sports celebrities Todd Ziele (a 15 year veteran of the NewYork Mets), his wife Julianne McNamara Ziele (Olympic Gold Medalist)and Julianne's sister and business partner Elizabeth Thompson werescouting the show for possible additions to their new boutique HipsterKid, set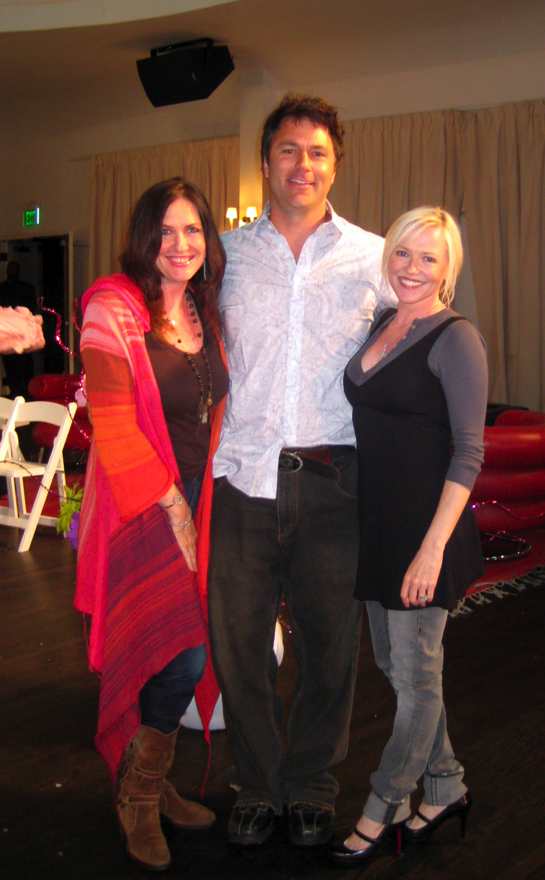 to open in Westlake Village, California later this month.Elizabeth noted that they had purchased Kicky Pants for Hipster Kid,but were introduced to several new lines at the show like LittleRuler's Santa Cruz line and socks by My Stinky Little Toes that theywould now be purchasing.
Baby Celebration Los Angeles is an annual celebration of babies andtoddlers which offers the largest collection of boutique andhard-to-find, luxury products to new and expectant parents looking formass merchandise alternatives.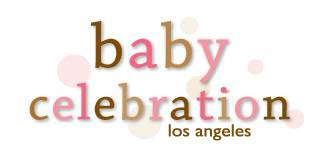 The exclusive "Sweet Petite and Tiny Treats" fashion show forattendees of Baby Celebration Los Angeles will take place Saturday,April 12 at 12:30 p.m. and Sunday, April 13 at 1:30 p.m. at the LosAngeles Convention Center. The convention center is located at 1201South Figueroa Street, Los Angeles. Tickets are available for $10 eachand children under 12 are admitted for free. For more information logon to www.BabyCelebrationLA.com.