Wee Soles: Shoe store to the (celebrity baby) stars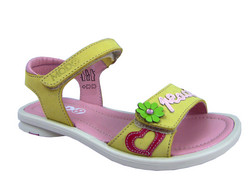 In case you haven't noticed, we at CBB are in the midst of a rather massive shoe review, unveiling the new spring/summer 2008 styles of — literally — dozens of designers each and every Wednesday on the CBB Reviews page. Why do children's shoes generate so much buzz? Probably because they're one of the most practical ways to emulate celebrity baby style. Although your little one might not 'need' a gold stroller or a diamond-studded pacifier, shoes are an inescapable fact of life … So if you've got to buy them (and buy them often, in the case of a child) you might as well buy the ones you like!
With that in mind, we recently spoke with Joanna Sacavitch, a co-owner of the ultra-hip Los Angeles-based shoe boutique Wee Soles, about what's hot in celebrity baby footwear. Since its opening in 2006 Wee Soles has become a preferred shopping destination for celebrity parents because of its incredible selection of brands. And with the recent re-launch of its website, that very same selection became instantly available to your own trend-setting tot.
Are there any trends that you're noticing in children's shoes, in terms of materials, color, construction, etc.?
The lighter, more eco-friendly the shoe, the more popular. More and more celebrities want vegan shoes. People still want quality and support and love a summer shoe if it's water-friendly. Good traction is important, but when the outsole is stiff, people don't like it. Bright colors for boys and girls are big (see Mod 8's Joie Lemon sandal above left). Boys love orange, Spiderman red and astronaut silver. Purple and pewter are hot colors for girls in the fall.
Click 'continue reading' for more.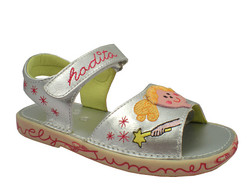 What are the most important features parents should look for when purchasing children's shoes?
A good fit (a little room to grow, not too much room, not tight in the width). Durability seems less important to parents than fit. And ease to get in and out of the shoe. It's important to visibly show a parent how easy it is to get their child into a shoe. Flexibility of the sole is very important to parents. We emphasize the importance of watching how a child walks and runs in the shoe while they are in the store so that the parent can see the differences each shoe has in flexibility, traction and fit.
How often do children really need to move up a size?
For toddlers, every 2-4 months. After 3-years-old, the foot slows down in its growth to a full-size about every 6-8 months.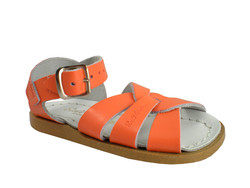 What are the hottest shoes this spring and summer?
For youth: Keen (read CBB's review here), Saltwater Sandals (see Original Orange at right; $32), Garvalin (Plata y Chicle depicted above left; $85) and Puma. For toddler girls: Primigi and Umi (look for our review later this month) . For toddler boys: Livie and Luca (read CBB's review here), Garvalin and Umi.
Who are the up-and-coming shoe designers our readers might not yet know about?
Harajuku from L.A.M.B., Tsukihoshi (look for our review in early May), Eleven (read CBB's review here), Formula Magic, Livie and Luca and Vincent (look for our review later this month).

Together with Joanna, co-owners Tamsin Carlson and Darcy Rosenberg founded Wee Soles in 2006 in Silver Lake, Calif., a hip neighborhood just east of Hollywood. Drawing on their backgrounds in professional dance, the trio have dedicated themselves to "linking style, service, and professional knowledge of feet and the body for the holistic needs of growing kids." Wee Soles counts parents like Will Ferrell, Thandie Newton and Eric Stoltz among its celebrity clientele, and styles at the store range from $18 to $95.