Reader Mail: CBB Reader Jennifer wants readers to be less judgmental of c-sections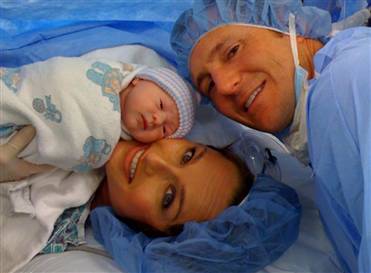 Yesterday we announced our new questionsATcelebrity-babies.com email box (just replace @ for the AT). It's a way to ask us questions but you can also think of it as Letters to the Editor. Feel free to email us with your reactions to stories a la Op-Ed pieces. Here's one such opinion letter we received this morning from CBB Reader Jennifer.
I visit your site daily and love it.

My only issue is the comments people write about C-Sections and breastfeeding. Particularly, Giada De Laurentiis' daughter's birth and the debate that when on discussing her hair, make-up and C-Section. I find that people can be cruelly judgmental towards C-Sections when they don't have the history of why someone has to undergo that procedure. It's not always elective and to assume it is and pass judgment is wrong.

I had to have an emergency C-Section and have a beautiful healthy daughter. Giving life is what is precious and beautiful. It was nice of Giada to be open and provide the birth of Jade to the public and I was very disturbed on how the debate on why she had to have a C Section seemed to take prominence. That is a private matter. Everyone has their own experience and reason for doing things. Don't judge celebrities or other people for that matter when you have not walked in their shoes.

Any statement that is negative is passing judgment in my opinion.

Thanks.
What is your reaction to Jennifer's letter?