Gaby Spanic and Alicia Machado show off their tummies on Cristina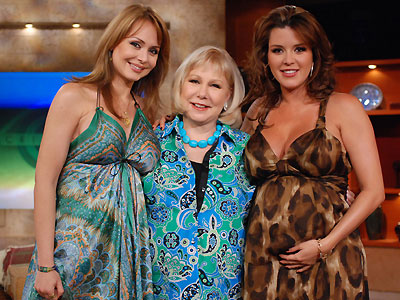 Venezuelan actress Gabriela Spanic (l), 34, and former Miss Universe Alicia Machado (r), 31, showed off their pregnant bellies during a special taping of the popular talkshow El Show de Cristina, about famous mothers that are currently expecting. While Alicia refused to comment on the father of the baby, Gaby did bring out her boyfriend and father of her baby, Venezuelan businessman Neil Javier Perez, for everyone to meet.
Gaby announced her pregnancy in January, she is expecting a boy to be called Gabriel de Jesús; Alicia announced the same month and also shared that she's expecting a girl.
Source: People en Espanol