Brenda Richie gives an update on Harlow Madden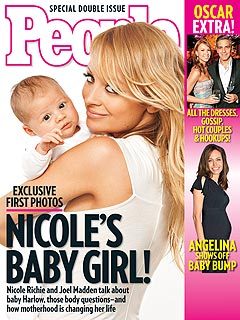 Brenda Richie, the mother of Nicole Richie, gave an update on granddaughter Harlow Winter Kate, 3 months tomorrow, while attending ASCAP's 25th Annual Pop Music Awards. And according to the proud grandmother, little Harlow is "trying to crawl already" and speak.
The other day I was holding her, and Harlow said, 'Hi!' I said, 'Nicole, did you hear that?' Nicole said, 'I don't think she knew what she was saying!' Nicole talks to Harlow constantly, and she tries to answer back!
Brenda also admits that she was protective with her daughter, and it appears as if Nicole is going to follow in those same footsteps.
I'm lucky if I get to [see] the baby. She loves being with that baby! [Harlow's] bathing time has to be right on schedule! I was strict with Nicole, and she fought all of it. Now here is she is, being the same way I was [with her] — it's great to see!
Harlow's dad is Good Charlotte singer Joel Madden.
Source: US Magazine