Autism Awareness Month: Signs and symptoms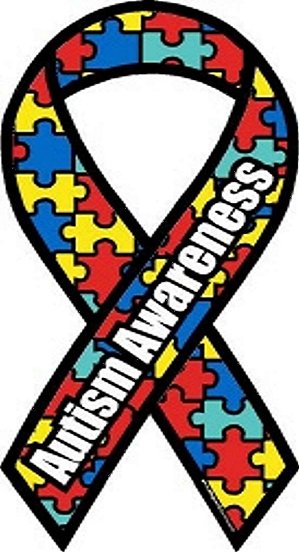 Chances are, sometime in the last decade, you either became a family directly affected by autism or came to know one who was. And while no one can say for certain why since the 1970s the rate of autism has risen from every 1-in-10,000 children to its current rate of 1-in-150, it is increasingly clear that we have an epidemic on our hands: More children will be diagnosed with autism this year than will be diagnosed with pediatric cancer, diabetes and AIDS — combined.
If you're a regular reader of this site, you know that autism knows no boundaries. Several celebrity babies have been diagnosed, including Holly Robinson Peete's son Rodney, Jr., 10, Jenny McCarthy's son Evan Joseph, turning 6 next month, and Toni Braxton's son Diezel Ky, 5. So as the world marks Autism Awareness Month, we at CBB wanted to do our part to help shine a spotlight on this complex neurobiological disorder that is touching so many lives, across so broad a spectrum and so profoundly.
Click 'continue reading' for more.
Autism, as defined by the Autism Association of America, is a complex developmental disability resulting from a neurological disorder that affects the normal functioning of the brain. Children and adults with autism often have difficulties in verbal and non-verbal communication, social interactions and leisure or play activities. Because autism is considered a 'spectrum' disorder, however, the degree of those difficulties vary greatly from person to person. Children at the lower end of the autism spectrum can be profoundly affected, speaking little or not at all and engaging in self-injury, while children who are considered to have high-functioning autism may be nearly indistinguishable from their non-autistic peers in many settings.
Part of what makes parents, especially first-time parents, unsure of when to seek help is the fact that so many indicators of an autism spectrum disorder (ASD) are difficult to distinguish from that of normal, quirky toddler behavior. There are several warning signs that warrant follow-up with a medical professional, however. They are:
Lack of or delay in spoken language
Repetitive use of language and/or motor mannerisms — also known as 'stimming,' this includes hand-flapping, twirling objects, spinning in a circle, etc. etc.
Little or no eye contact
Lack of interest in peer relationships
Lack of spontaneous or make-believe play
Persistent fixation on parts of objects, like the wheels of a car or the hinges of a door.
In addition, the National Institute of Child Health and Human Development (NICHD) lists five 'red flag' behaviors pediatricians should inquire about during the developmental screening portion of your child's well-baby visit. They are:
Failure to babble or coo by 12-months
Failure to gesture (point, wave, grasp) by 12-months
Failure to say single words by 16-months
Failure to say two-word phrases on his or her own by 24-months
Demonstrated loss of any language or social skill, at any age.
Still, there are even more behaviors that indicate a potential problem, including an insistence on sameness and resistance to change, laughing and/or crying for no apparent reason, prolonged tantrums and sustained odd play. With so many signs and symptoms to be wary of, it's no wonder parents find themselves feeling confused and overwhelmed if and when their child begins exhibiting the behaviors outlined above. To help mitigate against that confusion, the non-profit organization First Signs and advocacy group Autism Speaks last fall unveiled the ASD Video Glossary, which contains over 100 video clips of children — some of whom were later deemed neurotypical, and some who were later diagnosed as having autism. It is a groundbreaking resource that allows parents to see with their own two eyes the subtle differences that are often at play in children who are on the spectrum, and those who are not.
While its incredibly scary to consider the possibility that your child isn't developing normally, its also incredibly important that if you do have concerns, you address them head on. It cannot be stressed enough: Do not put it off, and do not ignore your instincts. Studies show that early diagnosis and intervention is key in achieving the best possible outcome for children with autism; Studies also show that when parents suspect something is wrong with their child, they are often correct. The sooner services can get started, the better. Next week, CBB will offer an overview of those services, as well as a discussion of the various theories about what causes autism.
In the meantime, for more information about autism, please visit: