Salma Hayek talks motherhood lessons and her campaign alongside Pampers and UNICEF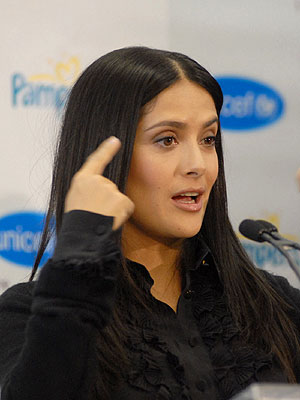 Salma Hayek
recently sat down with
People En Espanol
for an interview to discuss her new life with daughter,
Valentina Paloma
, 6 months, and her campaign launch alongside
Pampers
and
UNICEF
,
One Pack=One Vaccine
. At the launching of the campaign, Salma — with tears in her eyes — told the audience that she would support this campaign and think about the children.
Every three minutes one of them dies. A death that easily could have been prevented [by the tetanus vaccine].
Salma agreed that many outsiders might say that with her lifestyle she could have whatever she wished for in life and accomplish the greatest things, but she claims she already has achieved greatness.
I only have one daughter and that has been … I don't know, maybe I will have more, but for now this definitely has been the most incredible experience I have had in my life and I have done a lot. I am sure that there are plenty of women that say 'God, what a marvelous life, she can do this or that.' But, there is nothing that I have done that is more incredible than to have a child.
Continue reading to find out what lesson Valentina has taught her and the message she hopes this campaign will send.
Salma calls for all women to make a difference by buying Pampers,since she says that she knows all kids go to the bathroom and all kidsneed diapers! She explains that even though people may not have a lotof money, by buying a pack of diapers, they could be saving a life.
I never cry during acommercial and I cried with this one (the Pampers campaign) because oneof the strongest things is that you see the mothers with their childrenfrom all around the world and the look between all of them is like … weknow what we have to do.

It's very important that women makethemselves heard to try to change the world. Even for people who don'thave money — but still have to buy diapers for their babies becausethey go to the bathroom — it doesn't matter what happens in life, butone thing we can count on (a child going to the bathroom) and you guyscan make the difference.
When asked what lesson Valentina has taught her:
Every day she gives me lessons. Every day, I wouldn't know how to say [just] one.
On a special memory of Valentina:
I don't have one special memory. She's so memorable that I have my head saturated with so many, she's so nice. She's very nice. She makes me laugh all the time. I'll tell you what lesson she has given me: my daughter laughs all day and all night, even sleeping she's laughing, she's always in a good mood.

She has two little teeth and just shows you the two little kernels. She's always smiling, and since she smiles so beautifully, it's contagious. So now I laugh much more than before.
On how being a mother has changed her life:
It's changed me a lot. But [independently from being a mother], if you knew what the death rate of tetanus is among children, it would break anyone's heart. It's a terrible illness for these babies because the way that they are contaminated is when their umbilical cords are cut and they seal them with the dirt that is completely infected with tetanus, and the worst being that the mother doesn't even know it.

Obviously, being a mother, the thing I most hope for in life if I were asked to make a wish, is to have a healthy baby; anyone could relate to that. To think about these poor women and children who have no idea how they became infected, and infected with tetanus, makes me so sad because it's unnecessary and it's solved with only five cents.
On why she chose this particular campaign to join:
I love this campaign because it gives us the possibility to help these children that are dying in vain and we can all help in the easiest way: buying diapers, that we would have bought anyway.

Every diaper that you buy from Pampers that has the UNICEF seal of One Pack=One Vaccine, every time you buy a diaper, they give a vaccine against tetanus in countries where this bacteria is killing countless babies. When you buy this packet of diapers, a vaccine is immediately donated to save the life of one of these babies that are in danger.
The message she hopes that his campaign will deliver:
The satisfaction of being united with other moms, to save their lives along with their children. It could be a baby in the Congo, in Madagascar, in different parts of Africa, because despite the many problems we have in our countries, we don't have a problem with countless deaths every three minutes because of tetanus; something so easy to prevent, so easy to fix.