Poppy Montgomery on marriage and bringing Jackson to work
As Poppy Montgomery shared earlier, the delivery of 3-month-old son Jackson Phillip Deveraux was not easy. After two failed inductions and a lack of dilation, she needed to undergo a c-section. One extended-through-Christmas hospital stay and a 5-day deliberation over names later (Harper and Dashiell for a boy, Ruby and Scarlet had he been a girl), Jackson and Poppy were home, which is where they stayed throughout the writer's strike. Now back to work on Without a Trace, the 32-year-old actress revealed,
[I nurse him in bed in the morning, then we go to work.] He's with me all the time. My whole traileris set up like a nursery. He's sort of become the 'Without a Trace' mascot.

I'm suspicious of everybody. What ifJackson goes missing without a trace? I'm certainly more aware of thatpart of the world.
Poppy also again defended her and boyfriend Adam Kaufman's decision to remain happily unmarried, having said, "It didn't ever really occur to me."
My focus is having a happy, loving environment. I feel like as long aswe're committed to each other and we have a happy home we have amarriage — just not with a piece of paper. If it becomes an issue for Adam orJackson, [I would consider it]. Sometimes it's reallyimportant for kids that their parents are married.
Click below for a funny exchange between Poppy and Adam regarding the first time they met.
When Poppy and Adam first met on-set, their feelings for each other weren't quite so fond — at least not hers!
P: We didn't like each other, I can tell you that. I thought he was opinionated.

A: I actually thought she was really cool.

P: Oh. Now you're going to make me sound like the meanie.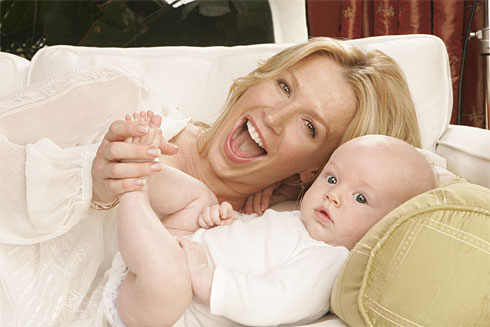 Source: USA Today
Photo by Dan MacMedan.