Carolina Herrera's daughter expecting third child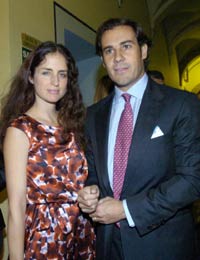 Venezuelen fashion designer Carolina Herrera, 69, will soon be celebrating the birth of another grandchild. Her daughter, Carolina, is currently expecting her third child with husband, Miguel Baez, according to Miguel's father. The news slipped out when Miguel made the announcement last Saturday during a naming ceremony that he was attending in Sevilla, Spain. Carolina is reportedly only in the first trimester.
Carolina and Miguel were married in 2004 and have two children together, daughter Olimpia de la Concepcion, 3, and son Miguel, 2.
Source: Hola!