Angela Kinsey talks about her 'cozy' nursery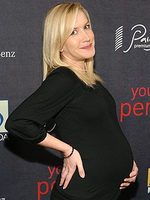 There are office pools, and then there are The Office pools. Angela Kinsey, who plays Angela on the hit NBC show, says that her co-stars have indeed started a friendly wager on the date and time of her impending arrival. The 9-months-pregnant actress tells the blog Pinks & Blues that bettors have been picking squares on a calendar at $10/each.
It's pretty funny. I have started having doctors appointments every week now and you should see how the ladies in the crew circle me after for details. I'll be in the hair and makeup trailer and they'll say coyly, 'So, Ange any news from your doctor?'
Due May 9, Angela, 36, says that preparations are finally underway in her nursery — and the room will reflect the time of year her daughter was born.
I just wanted it to feel cozy. If there was any theme it would be a spring day. I have a great gal who is painting a mural on one wall of a big flowering tree. There will be a few butterflies and some bunnies. And some grass and little flowers on the bottom. She just started and already it looks too cute!
The baby will be the first for Angela and her husband, writer Warren Lieberstein.
Source: Pinks & Blues