Salma Hayek appears on Oprah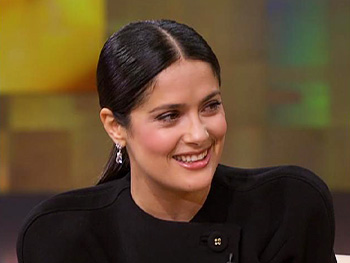 Appearing on Oprah today, actress Salma Hayek discussed her difficult pregnancy, becoming a mother at 41, how she chose her daughter's names, her unique relationship with her fiancé, and the piece of nursing advice she finds to be a myth.
Click below for the highlights and a video of the first part of the appearance.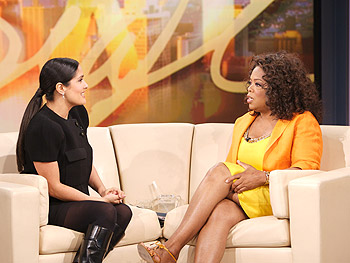 On the sex of the baby:
I always wanted just anything. I just wanted a baby. When they toldme I was pregnant, you know, you get a little nervous … 'I hope I'm thebest mother, I hope I educate her well.' And then I remembered how hardit is to be a woman. Ichickened out, and I said, 'Oh, my God, I hope I get a boy.' Because Ijust think they have it easier.

One doctor told me it was a boy, then the other said it was a girl. I remember when they told me it was a boy I was alittle disappointed! So I think I really wanted a girl or I knew it wasa girl. And then when she was born, I was so happy she's a girl. Having a girl is the best.
Choosing her daughter's name:
I liked that name … I wanted to name her something that meantsomething and Valentina means "courageous one" in Spanish. Then, onenight, I got really nervous that she was going to be like arevolutionary. And I said, 'I better compensate withanother name that's a little softer.' So I named her 'Paloma,' whichmeans 'dove' in Spanish.

She's a 'courageous dove.' Usually I call herValentina, but sometimes I called her Palomita.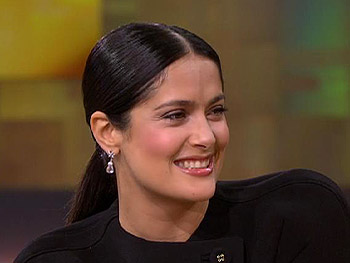 The pregnancy, nursing, and weight loss:
I gained a lot of weight. I had gestational diabetes. The pregnancy was really difficult for me. I thought, 'As soon as thisbaby's out, I'm just going to lose all the weight superfast because I'mgoing to breastfeed, and everybody tells you if you breastfeed, [theweight] is going to come off.'

It's a lie; It's not true. I'm going to say something. Except for a couple of exceptions, the onlyreason people lose weight like that when they're breastfeeding — it'scause they're not eating and they're breastfeeding. And this is not good for the baby.

It takes you nine months to get it, and nine months to lose it. There are shortcuts, but it's not good for thebaby. So I'm taking my time. I've lost a lot — most of — theweight and I'm very proud of it, because it's been really hard workstudying what can I eat that's healthy for me, what's healthy for her. But I'm still losing, even ifit's slow. And I've been working out.

I'm proud of what I've lost. And the rest is going to go when it's time to go.
Loving her baby:
She is so spoiled. And I will not apologize for it!
On becoming a mom at 41:
I really feel for those mothers who have the babies really young. It's a lot of work and I think it's the best time …It's a little nerve-racking to wait that long, but it's the best timeto have it because you've done so many other things in your life. Youjust get it out of your system, and you can really relax into being amother, which is the best thing that can happen to you.

But ifyou're 23, you don't know this because you think you have to do so manymore things. But if you already did them, then you can really focus andenjoy every minute of it.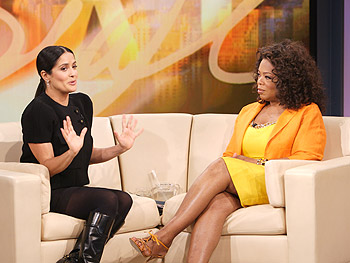 On why she and fiancé François-Henri Pinault haven't wed yet:
I thought I was going to have to work really hard at getting pregnantbecause of my age, but then I just got pregnant. After Igot pregnant, I don't know why, [but] the [ceremony] part of it is notnecessary because we have such a huge commitment for each other. Idon't know that we have to go through the rituals.

[Men] have to work every day to continueto keep you wanting to marry them. They have to work at ita little bit, so it's sort of sexy. I know people, once they getmarried, something happens, and I don't know what it is, but somethinghappens, and then they are not as in love with each other.

Every time hecomes, it's an event. And every time I go, it's the same and it's soromantic and it's so exciting. And the time we spend together, it's 100percent quality time. And then the time we're not together, I have 100percent quality time to my baby, to myself, to my career.

So for us, it works. Now, it's not an open marriage. Nobody think thisis too modern and don't get the wrong idea; €"the level of commitment isexactly the same.
Source: Oprah