Salma Hayek: Valentina is "beautiful, fun, and amazing"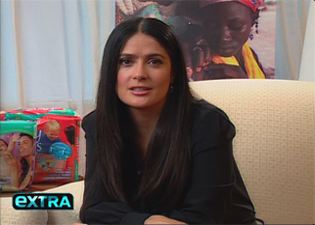 Although she's been a mother for only six months, Salma Hayek revealed in a new interview with EXTRA that it already seems like a lifetime. The 41-year-old actress and mom to Valentina Paloma said,
I don't even remember what my life was like before. I can tell you that I don't sleep. This is a cliché but it's true. I haven't slept in the last six months.
The transition into motherhood has had its moments — at times, Salma has found it difficult to focus on anything other than her daughter. Having shared that, "The blessing of having a healthy child, I think is the best thing that can happen to anyone," Salma admitted that she is dealing with the re-arrangement of her priorities.
I think I'm getting used to it by now … I'm trying to get back to my life. I'm trying to remember what it was because she is so beautiful and fun and amazing. It's hard to look anywhere else. I'm going through that process.
Dad is François-Henri Pinault. For more from Salma's interview, catch the latest edition of EXTRA, airing this evening.
Source: EXTRA