Introducing Jackson Phillip Deveraux Kaufman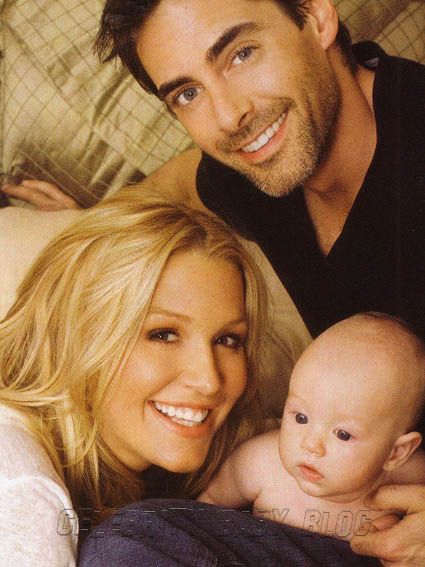 Although we did a CBB interview with Poppy Montgomery in February, and got a quick peek at the baby in March, she and boyfriend Adam Kaufman officially introduced their son Jackson Phillip Deveraux Kaufman, now 3 months, this week in Woman's Day, a magazine out of Poppy's native Australia.
In the below interview and photo highlights, Poppy, 32, talked about how she ended up needing a c-section after two failed inductions, how they chose Jackson's names, visiting Australia, going back to work, and more.
Click below for the photo and interview highlights.
A: We talked about it.

P: But we thought it would take a while, because people try for a while to get pregnant. But the first time we tried I got pregnant. Right away! And he's such a sweet baby! He has only woken up once in the night since he was 3 weeks old. He'll wake up only one time and then he goes back to bed until 7 am. He's a mellow little baby too.

A: I sensed Poppy was pregnant before she knew herself!
On getting married and speaking with a psychic:
P: It's just not a priority for us. It's so much more important that Jackson be a part of a loving family. If it became important to Jackson that we were married, I would do it based on that. I feel like we're married anyway.

A: The problem with marriage is trying to figure out when, how, where — whether you just want to head over to the courthouse and get it done.

P: Or have a party in Cabo San Lucas or Connecticut or Australia or LA. But our baby shower was such an enormous deal it was almost like a wedding.


We had 150 guests, a reptile show with snakes and alligators for the kids, a milkshake bar and cookie decorating. We had a psychic for the adults. We did everything. It was a gorgeous day!

A: The psychic told me that Jackson would be late, which he was. They also told me he would be a very Zen baby.
On Jackson's name:
P: We went through a lot of names in the beginning like Harper and Dashiell, but decided we liked Jackson the best. I think it's kind of unusual too, although it's not as out there as my parents' choices!

Pop — Phillip is my dad's name, Deveraux is one of my mum's family names, and then Kaufman is Adam's name.
On the December 23rd birth:
P: He was induced. The first induction didn't work, so I decided he just wasn't ready to come and went home. But then doctors don't want the baby to stay in too long and when we went back for the second time, he still didn't want to come out — he was quite happy in there!

So I ended up having a c-section because I didn't dilate at all.
P: We don't know. I look at him and I don't know if I could love any other baby as much. I'm just so much in love with my baby and the thought of bringing in another baby and then not being able to give him my full attention — it's just too overwhelming to think about right now.
On sleep:
A: He's actually been sleeping four hours a night since he was 3 weeks old, which is pretty amazing.
On taking him to Australia:
P: We want to go to Australia so much because my dad hasn't seen Jackson. He hates flying, so the only way he's going to see Jackson is if we visit. I really want him to see his grandson before he's walking and talking, so if we don't get over there soon then we're definitely visiting for Christmas this year.

We wouldn't consider moving back because Adam's American and my work is here. We've talked a lot about getting a place in Sydney so we can go back and forth more. I want Jackson to know where I grew up and where I'm from and I want him to be near his grandparents. It's just such a long flight.
On visiting Without a Trace co-stars:
P: Oh yes, and they all came to the baby shower. Anthony and Gia LaPaglia gave Jackson the most gorgeous green cashmere outfit with pearl buttons. It's so beautiful. We'll keep it forever. Jackson wore it once and I was so terrified he would get spit-up on it he never wore it again.
On going back to work:
P: It sounds bad to say, but this writer's strike came at the perfect time for me because it gave me a pregnancy leave. Otherwise I'd have to have gone right back to work. So I got two months off to be with Jackson where I got to really be with him and learn all about being a mum.

I didn't realize how hard having a new baby is. I was like "Oh, I'll be fine. I'll be back in two weeks — no problem!" And I would have, but it would have been tough — especially with the c-section because you're still recovering from the surgery.
On what surprised her about motherhood:
P: That I just took to it so well, right away. Its also surprising that all that stuff that people say like, "You've never know love like this" or "After you've had your baby everything seems secondary;" it all turns out to be true.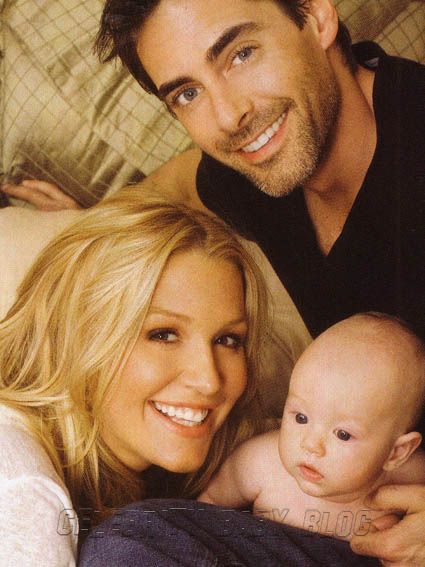 Source: Australian Woman's Day, April 14th issue.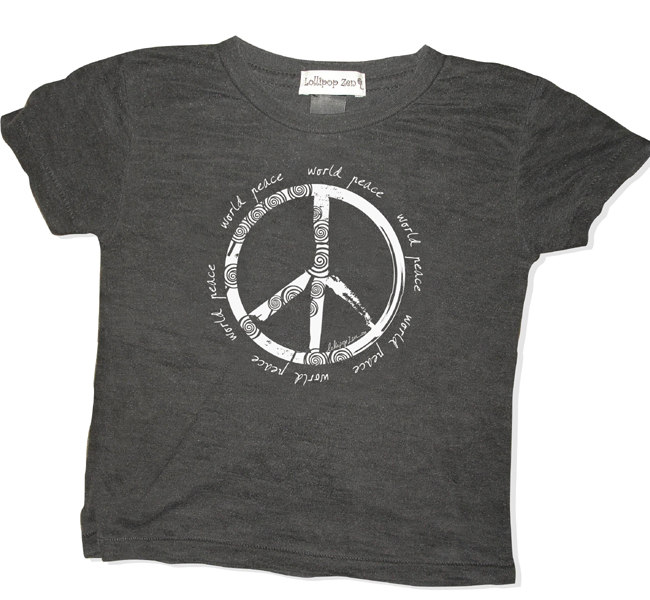 Jackson is wearing a World Peace Burnout 2008 tee from Lollipop Zen ($35).
Thanks to CBB readers Elizabeth and Shannon.