Jill Hennessy's postpartum plan: "A lot of nursing and a little bit of yoga"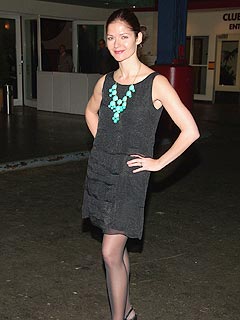 Although it doesn't work for everyone, Jill Hennessy counts herself as one of the lucky ones who dropped post-pregnancy pounds by breastfeeding. As new mom to 4-month old son Gianni, the actress said it all came down to the boob — and a spot of yoga.
A lot of nursing. When you are nursing a small infant it literallysucks everything out of you. Also, a little bit of yoga. Yoga is a great thing, it really helpsyou get back into shape. It wasn't easy though. Trust me!
Also mom to older son Marco, 4 ½, with husband Paolo Mastropietro, the 38-year-old revealed that the transition from mom of one to two has been relatively easy.
Having a second child has made me enjoy both of them even more -– eventhough you sometimes want to pull your hair. I'm taking itone day at a time and it's been amazing.

These kids of mine areincredibly cool. [Gianni] laughs all the time. To be honest, I didn't know a babycould be like this. He's completely fun and he hangs out and parties.He actually sleeps really well too, which is great. I'm shocked!
Source: People