Cristina's daughter writes letter to her son
Popular Cuban TV host, Cristina Saralegui, 60, poses in this week's issue of People en Espanol with daughter Cristina "Titi" Zampieri and grandson Domenic Marco, 9 months. In this issue, many celebrities wrote letters of thanks and love to their mothers and their children in celebration of upcoming Mother's Day, including Titi who wrote a letter to her son about his grandmother.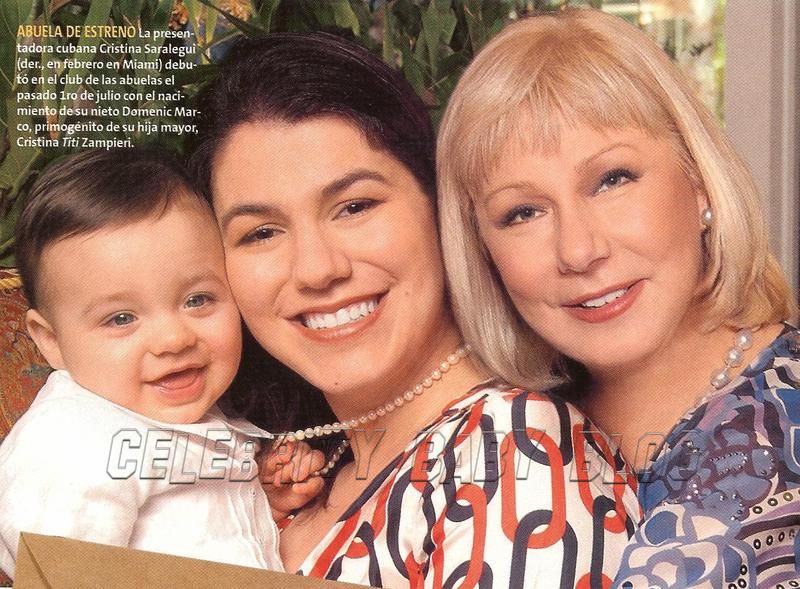 Source: People en Espanol, April issue
Click below to read the letter Titi wrote to her son!
When you are old enough to understand this letter, the legend of your grandmother Mati will be well established. Your granny is better known as Cristina and was the bridge of inspiration and motivation for millions of TV viewers. Your grandmother always said the Cubans were her tribe and the Latinos were her people.

In her long career she received all the recognitions you could imagine and I could talk to you about that for a long time, but now I'd like you to know where so many little things that you couldn't imagine began. Do you know where those little butterfly kisses that you like so much came from? Or those eskimo kisses? Or why I put a little bit of perfume on your pillow so that you don't miss me when I go to work? Or why when I hug you I move you back and forth? Or why I love scary movies? Or why I drive so fast and always say what I'm thinking and believe in female liberation, and why I love whisky?

All those things I learned from your granny, my mommy. The woman that showed me to be independent and to always start everything believing in myself first. I hope one day, my angel, that you will be so proud of me as much as I am of your granny.

Your mommy, Titi