Samantha Harris on her best advice, being a working mom, and more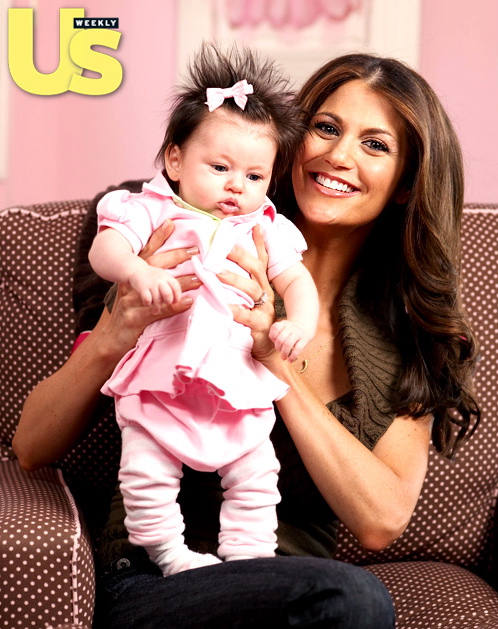 Dancing With the Stars co-host Samantha Harris received a lot of advice during her pregnancy, but the most important piece of information she gleaned was to keep her and husband Michael Hess' name ideas private.
Best advice — to keep the name choices for the baby a secret until he or she is born. It was nice not to have anyone sway us away from the boy and girl names we loved. No ill advice was given. (Shocking, right?!)
The arrival of Josselyn Sydney was a big surprise — Samantha, 34, and Michael had chosen to find out the sex at delivery, and their daughter arrived two weeks early. With everything moving so quickly, Samantha cites her epidural as her must-have to get her through the birth.
I received it within 15 minutes of being admitted to the hospital and it allowed my labor and delivery experience to be quite blissful. Seriously!
Click below for a typical day with Josselyn, being a working mom, and Samantha's best advice.
Now that Josselyn is 6 months, the family has been able to settle into more of a routine — although it still includes very early morning!
Josselyn has the biggest eyes and they are wide open at 5 am, but sometimes she'll take a pacifier and snooze a little later. The day is all about changing diapers and feeding her — but we get a lot of playtime in as well. She loves lying under the music and lights of the baby gym and being strapped to us for walks.
Samantha returned to her duties at Dancing With the Stars last fall, but the most recent edition, which began March 17th, is her first full season back at work.
Just as many women have done before me — I am juggling motherhood and full-time work. Thankfully, I work for wonderful people who are helping the transition from maternity leave to working motherhood be as smooth as they possibly can.
Having experienced mommyhood for a half-year now, Samantha shared that her best advice is to just live in the moment.
Have fun and drink-up every second of those first months — the baby grows so fast that in those bleary-eyed moments of exhaustion, it's easy to want her to fast-forward to walking and talking. Enjoy this time, though!
For more from Samantha's interview, visit the Mom To Be Depot.
---

The Mom to be depot is a resource for new moms that provides advicefrom national experts, "must-have" products, and information about howto take excellent care of yourself — while you are pregnant and after.