Singer Poncho Lizarraga confirms wife is pregnant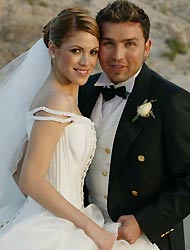 Poncho Lizarraga, 33, Mexican singer from the group Banda El Recodo, confirms to the talkshow La Gorda y La Flaca that his wife, Celia Correa, is expecting their second child and is currently in her second trimester.
I am very excited. Obviously there is a lot of love and to have kids with the person you love is the best thing that can happen to someone.
Worrying about complications with the pregnancy led Poncho and his wife to wait until the second trimester to make the announcement.
We haven't wanted to tell anyone before three months had passed, since that tends to be the most delicate time [of the pregnancy].
Click below to find out how Celia broke the news, and whether or not they have found out the sex.
Finally, he reveals how his wife broke the news to him on Valentine's Day and that they have not found out the sex of the baby.
I got home from a trip and my wife gave me a card telling me that we were going to be parents again! If God wants to give me a third daughter, I will be so happy, and if it's a boy, well, I'll be so happy too since it will be the first.
Poncho and Celia have one daughter together, Celia, 15 months. Poncho also has another daughter from a previous relationship.
Source: People en Espanol