SIGG Bottles: Take a swig from a SIGG and you'll be convinced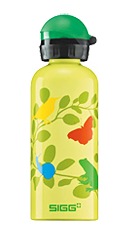 SIGG Bottles are universally loved (and a great BPA-free alternative to plastic cups or bottles). They have been mentioned on our site many times, so I wanted to test them out as a safer sippy alternative for my toddler. The Z Report, a great place to check out various sippy cups and bottles and how "safe" they are, has given them their seal of approval. I was thrilled when Nubius Organics kindly sent me three to test out.
According to the Nubius Organics website,
SIGG reusable bottles are super stylish, eco-friendly, ultra-durable and unlike many plastics, won't leach toxins into your drink. These lightweight, seamless aluminumbottles are crafted with extreme precision to last a lifetime. Manufactured with an FDA approved non-corrosive lining, they're resistant to acidic and isotonic drinks andwon't flake even if the metal is dented, plus they are guaranteed against leaking.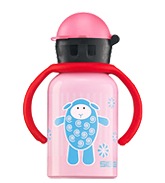 I can attest, these bottles were terrific. Ben is used to straw and typical sippycups, but he quickly learned how to drink from the spout. I started him out with the smaller ones and he learned to use them very easily. His waterwas kept colder and it was nice to have a colddrink after running around on the playground. These do need to be washed out by hand, but I didn't find that to be a problem.
The best thingis that I knew that there were NO chemicals leaching into his water.These bottles do dent if dropped, but the lining doesn't flake andaccidents do happen (especially in my house). I ended up replacing someof my water bottles with SIGG Bottles because I liked them so much.
CBB Deal: Use code eco15 for 15% off at Nubius Organics.