I Bought It: Readers tell us about their CBB-inspired purchases
We know that CBB Readers love to shop via the site so we asked everyone to tell us what they've bought based on what they've seen on the site- photos, reviews, ads, giveaways, etc.
CBB Reader Maria told us: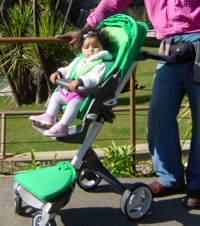 I went to the Giggle store immediately after reading your review on the Stokke Xplory. This was over a year ago and my daughter (and I) absolutely love it!
The stroller is also so unique looking that every time we goanywhere we get so many stares and people "oooohing" and "ahhhhing" andcoming up to us asking questions. I just love how smooth the ride isand having the height advantage. When we go to the zoo or a museum mydaughter has a much better view of things compared to children in"regular" strollers. We also use it as a high chair in restaurants andalthough it does not fold up as easily and quickly as another type ofstroller, it is still quite simple and fits in our little Prius!
Thank you for writing about it otherwise I would have never known it existed!
[Check out our reviews from 2007 and 2008.]
Click below for more CBB readers and what they bought.
CBB Reader Dawn told us:
Hey! I am a long time reader of your website. The first thing I ever bought after hearing you ladies review were the Diapees and Wipees. I still use it now and my son is 3!
Also I won the Cool Baby Namesbook last month (thank you!!!). I love it so much I am buying it for myfuture sister-in-law who is due in September. I, of course, told herabout your site. Keep up the good work. Love your site!
CBB Reader Jenn told us: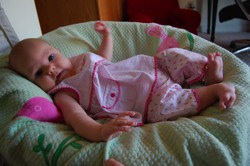 two things that come to mind are the baby emi jewelry cambodian jingle anklet that is/was on your side bar. it ended up in my two month old's easter basket. 🙂
the other is a babyhawk mei tai.i'd planned on getting one anyway, since the mei tei i used with myolder kids had seen better days, but couldn't pick a fabric until i sawa boom boom room post with one i loved!
CBB Reader Zoe told us:
I have been an avid CBB reader for about 2 years now, since our son,Cyrus Mason was a toddler (he is now 3 and 1/2). I have made severalonline purchases inspired by items seen on CBB, especially since thebirth of our second child, Ruby Inez, on January 6, 2008. These include:
I really enjoy CBB, even if it has become an expensive habit -lol!!I have found the products featured on CBB to be of the highest qualityand reasonably priced too. I have bookmarked a lot of product sites forpotential future purchases, especially clothing for the kids. Thanksfor the inspiration.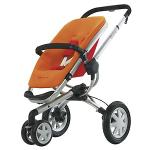 CBB Reader Besse told us:
I love your site and read it every morning. I have clicked on countless links for products from your pages. Here are a few items I have purchased based on reviews/links from your site: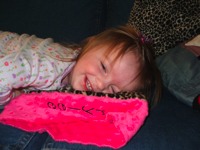 CBB Reader Jennifer told us:
We saw the dillyhearts toddler pillows on your site (in the celebrity gift baskets). We bought our daughter one and we love it!!! Your website is so much fun!!!
---
Have you made purchases based on what you've seen or read on CBB? EmaildanielleATcelebrity-babiesDOTcom to tell us about it! Make sure you put"CBB Purchase" in the subject line.