Introducing Maddison Haining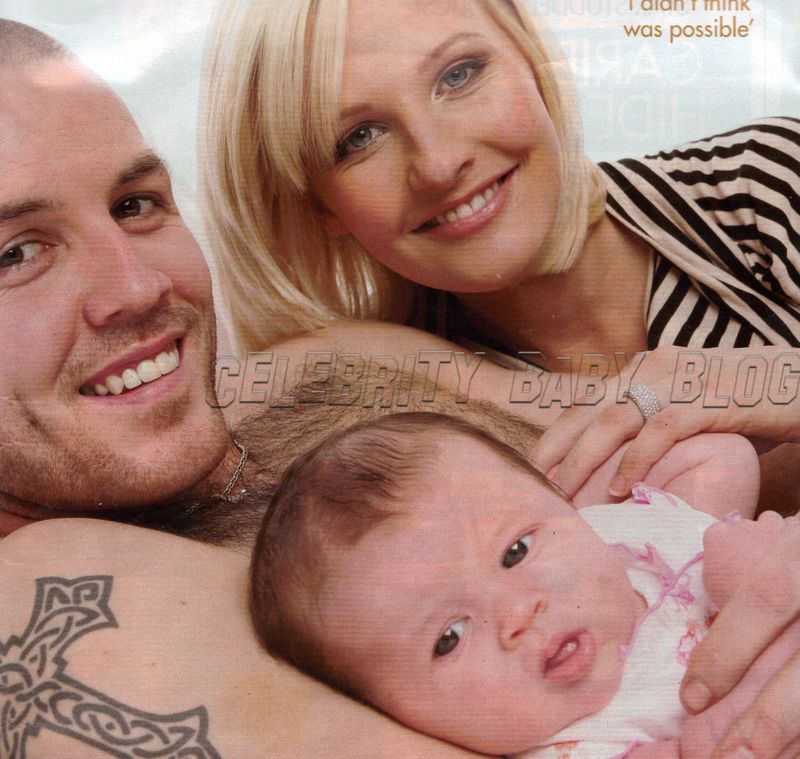 British glamour model Michelle Marsh Haining, 25, and St Mirren's footballer Will Haining, both 25, welcomed 8 lbs, 3 oz daughter Maddison last December 16th. In the latest issue of OK!, the couple, who will celebrate their first wedding anniversary in June, discussed Maddison, her birth and the medical issue resulting from it, fatherhood, and more.
Click below for the photo and interview highlights.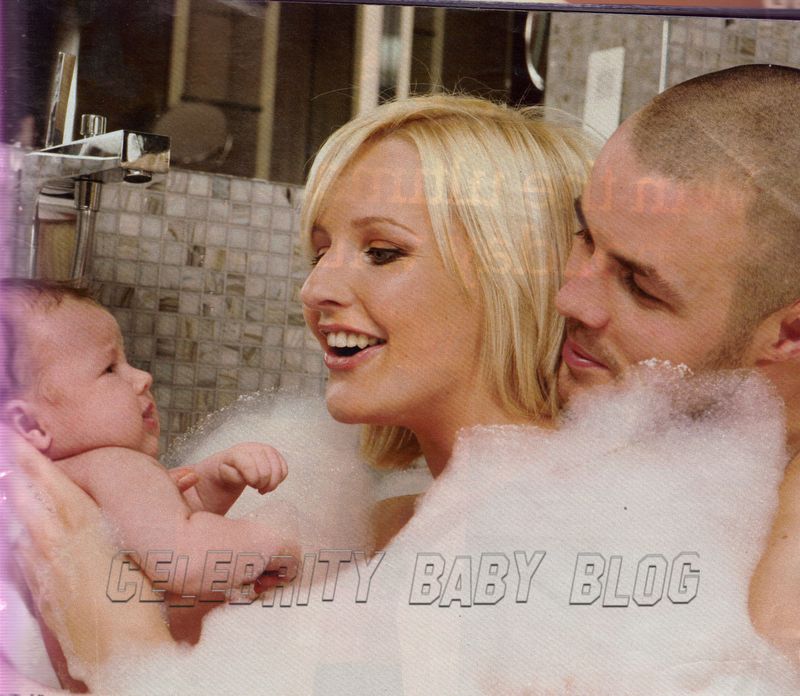 On concerns towards the end of the pregnancy:
M: The doctors were a bit worried about her size because she didn't grow for the last two weeks. And I also wasn't allowed to go over my due date because when I had two tests for down syndrome and spina bifida, my spina bifida test didn't come up completely clear, so they were a little worried about that.
On the birth:
M: I wanted a home birth and ideally a water one, but the doctors saidthey wanted to keep an eye on me. There's nothing major to be concernedabout, but I had some tests and there could be some complications withthe labor so I'm following their advice.

I really did enjoy [the birth] and I think people thought I was mad, but I really did. It was just at the end when it became a bit of a drama that I didn't enjoy it because it became a bit frightening.

W: Maddison's heartbeat dropped when she was coming out because the cord was wrapped around her ankle. It went from being really calm, with just me, Michelle and the midwives in the room, to suddenly five doctors rushing in to get Maddison out as quickly as they could.

M: It was a bit touch and go. It also took her a while to cry and to take her first breath and everything, but as soon as she did she was absolutely brilliant.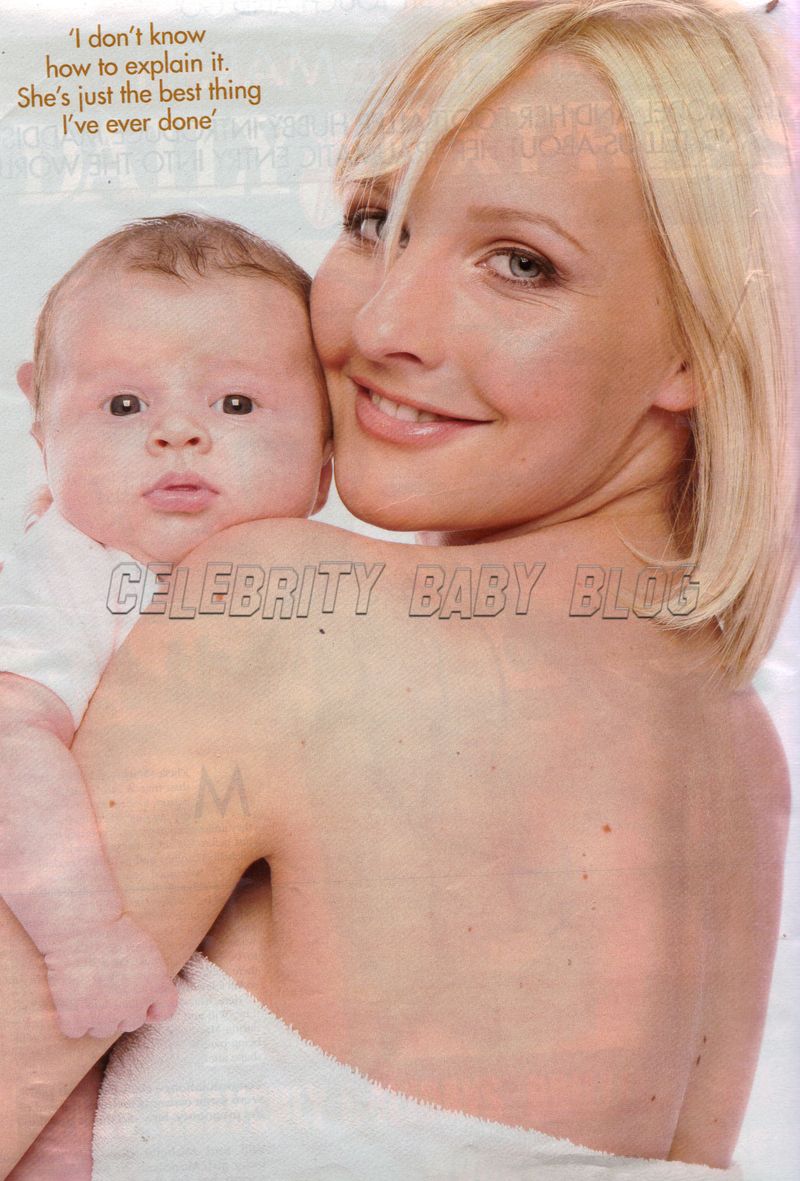 On the aftermath of Maddison's birth:
M: I had to go off to surgery. I had quite a bit of a hard time and I was away for an hour so I was devastated. But it was all worth it. And she's absolutely perfect. I was so desperate to meet her, I couldn't wait.


I didn't realize [the tear] was that bad, because I couldn't see what was going on, but Will's face was white. I kept telling him to go and be with the baby, but he wouldn't leave my side, so I realized it must have been quite bad. He looked absolutely petrified.

It is scary what can happen, and because I tore I can't have any morechildren naturally. I would have to have a Caesarean because the tearwas that bad. They would worry about it reopening. It is quite horrificwhen you think about it. But it wouldn't put me off getting pregnantagain.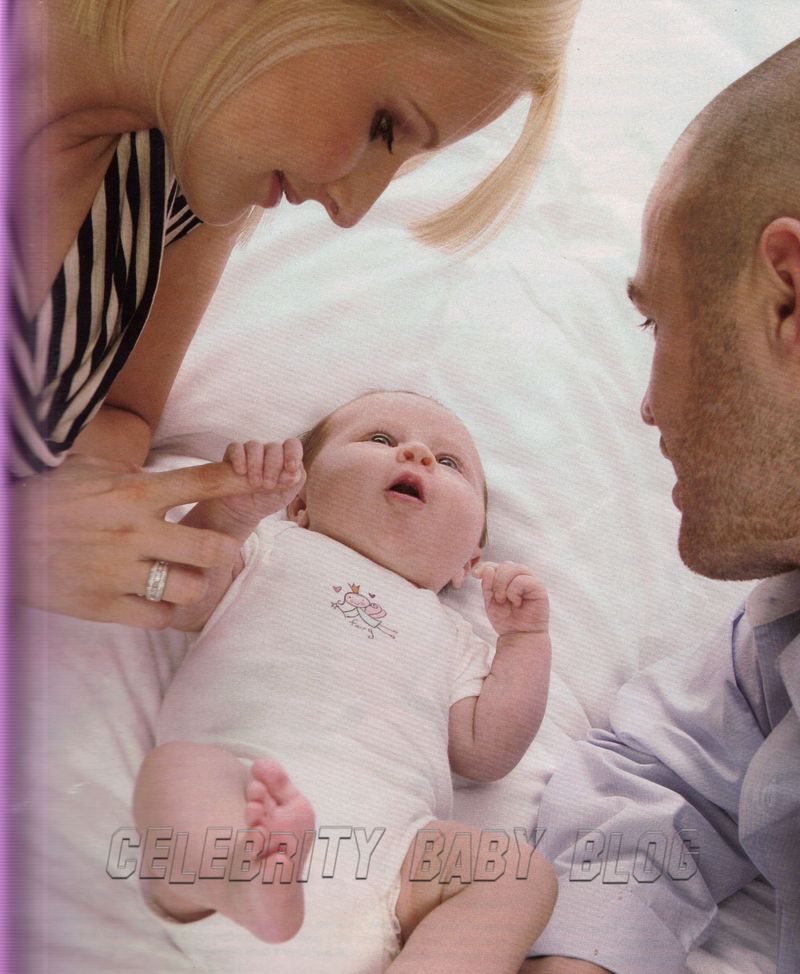 On holding her daughter for the first time:
M: When I first held her in my arms it was unbelievable. I don't know how to explain it, she's just the best thing I've ever done.
On being a mom:
M: It has been the best three months ever!
On fatherhood:
W: Fatherhood is great. I'm getting used to it. Michelle says she's adaddy's girl — I hope so. I'm besotted. You have your ups and downsbut then she'll give me a little smile and it's all worthwhile.
How having Maddison has changed their relationship:
M: The bond between us is a lot stronger. The two of us were in tearswhen she was born and Will's not an emotional person, but he was reallycrying. I think she's going to be a little daddy's girl. He loves her,he absolutely adores her.

W: Michelle does a lot more than I do. It took a lot of getting used toin the beginning. It brought us closer, which I didn't think waspossible.
On nursing:
M: I struggled a little bit at the beginning and I couldn't fill her up and she was feeding every two hours and it was really tiring. I got mastitis in my left breast and then I got flu and was so under the weather I couldn't lift my head off the pillow, so at that point I had to put her on the bottle. I breastfed for five weeks and I knew I wanted to try and do it for as long as possible and that's what I did.

I was absolutely devastated because it's like a special bond because you're the only one that can feed her, but when that's gone anyone can give her a bottle. After I couldn't breastfeed, I did get the blues a bit and I was worried it would be postnatal depression, but I managed to snap myself out of it thankfully. I'm not sure what it was, but I was just crying all the time and I felt guilty about crying because I thought I had this beautiful baby and I shouldn't be upset.

I think it was because I wasn't breastfeeding and I didn't have my mum with me. It was just me and Will and he'd come home from training and I'd be crying. For a few weeks I was really down. It's a massive adjustment and it's quite scary to have this person relying on you.

Oh my God! When I stopped feeding they were huge. I loved them, though,because they looked like fake boobs. Now they've deflated a bit, butthat's what you get for breastfeeding!
On stretch marks and weight loss:
M: I didn't get any. My mum has got amazing skin and she's given it to me. Even after breastfeeding I haven't got one stretch mark. I think that really helped me get in to shape. I'd breastfeed and I'd feel as though I'd done 500 sit-ups! Within three weeks my stomach was back straight in and I definitely think that's down to breastfeeding.
On modeling:
M: I won't go back to topless modeling. Each to their own, but I don't want to do it now I've got her. I would like to go back to modeling in some way, but I'm not sure what because the majority of the work is in London and we're up north. I can't imagine being away from her.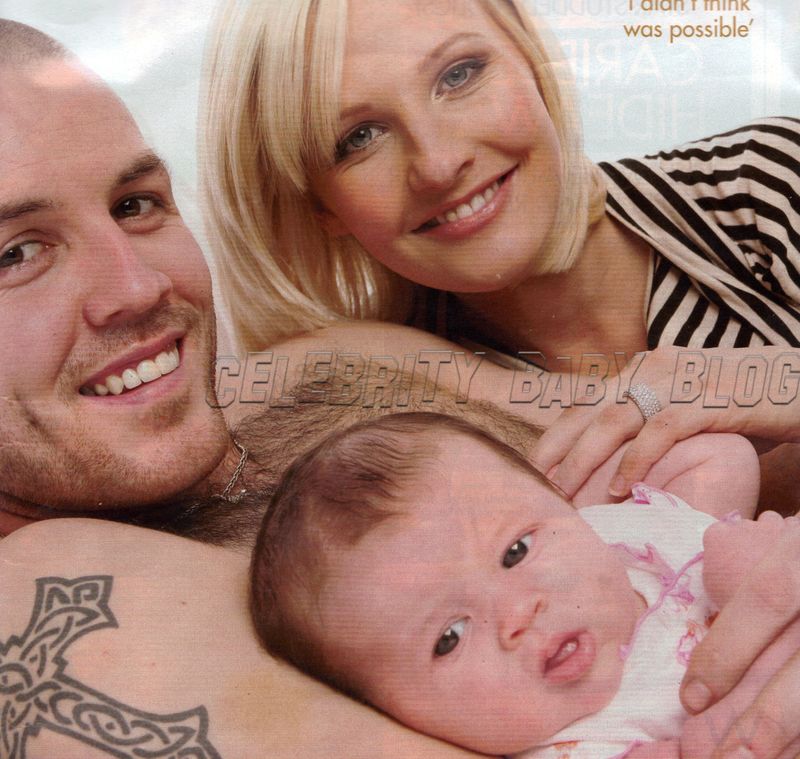 Source: OK! Magazine,Issue: 617 April 8th
Thanks to CBB reader Carlie.