Daisy Fuentes shows off future godson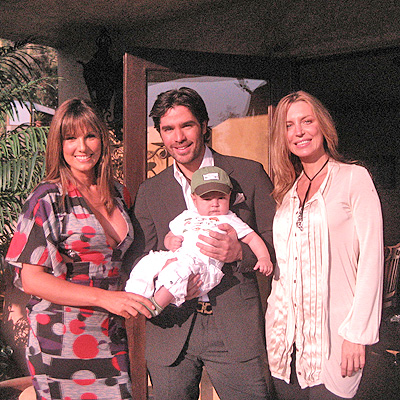 Cuban model/TV personality, Daisy Fuentes (l), and Mexican actor Eduardo Verastegui, couldn't stop showing off their future godson, Pablito, 6 months, during a photo shoot on March 3rd in Los Angeles. Dad, Mexican singer/actor, Pablo Montero, had announced the godparents for the Mexican baptism ceremony during his girlfriend's pregnancy. The second of two baptisms will be held in May in Coahuila, Mexico since Pablo hopes for some nice weather.
…The weather will be better by then…and it will be a beautiful ceremony where so many people that I love will go.
Pablito's first baptism was held in Argentina on Christmas Day with a different set of godparents. Pablito's mother, Pablo Montero's girlfriend, is actress/model Sandra Vidal.