Triple H and Stephanie McMahon Levesque will not find out the sex of the baby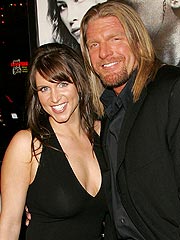 Past rumors have stated that the baby professional wrestler Paul "Triple H" Levesque and his wife Stephanie McMahon, 31, are expecting at the end of July is a girl. However, the 38-year-old dad stated that wasn't the case in a new interview.
We don't know what it is, we are going to wait and be surprised. Not a lot of surprises left in life, you've got to take them where you can.
The interviewer also asked Triple H if he was hoping that the baby would be a little boy. To which the WWE Raw Superstar replied,
You know, its funny. I would take either one. As long as the baby's healthy, and I know people say that all the time. Having a girl now, if I had another girl I'd be thrilled. At some point I would like to have a boy, and hopefully I can at some point, but it doesn't have to be this one. And my wife wants to have like five kids. [laughs] She better do it soon, I'm getting old, I won't be able to remember their names.
Triple H and Stephanie's daughter Aurora Rose is 20 months old.
Source: Muscular Development
Thanks to CBB reader Michelle.