Update: Contest: Win Mama Mio's Emergency Repair Kit!
Update: The winners are:
Emergency Repair Kits: Lauren H. and Olivia H.
The booby prize: Boob Tubes: Celeste L. and Michele K.
CBB Deal: Use coupon code CELEBBODY at mamamio.com to get FREE SHIPPING on all orders over $50 (exclusive of tax). Good through May 11, 2008.
---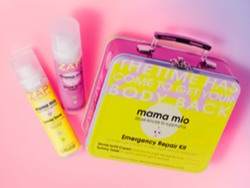 The time has come to get your body back! Send your bulges to beauty boot camp – because lipo sucks.
Our NEW Emergency Repair Kit is a total skincare solution to help regain smooth toned skin. With Shrink to Fit Cream, our potent formulation to zap cellulite and Tummy Toner, a facial peel for crepey skin to lift tighten and tone, this dynamic duo will have you feeling great in your supermama skin, just in time for bikini season.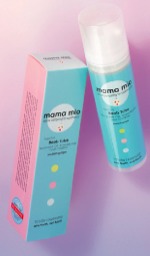 Defy gravity with Mama Mio's best-selling Boob Tube, our push-up bra in a cream.
Mama Mio is all about improving and maintaining the tone, texture and elasticity of skin. We are proud to lead the new movement in skincare – facial quality body care – focusing on the specific benefits women want, to achieve and maintain fit skin for life. Great skin shouldn't be exclusive to your face. Look after every inch of you and feel great in your skin.
Mama Mio was founded by three beauty experts in London. Between us, we have 45 years experience in the beauty industry and, more importantly, 62 years being supermamas! Our Mama Mio mission is to use all our experience to help you feel good in your supermama skin for every stage of this amazing lifelong journey.
Celebrity supermamas love Mama Mio: Jennifer Lopez, Milla Jovovich, Gabrielle Reece, Christina Aguilera, Natalia Vodianova, Stella McCartney, Victoria Beckham, Christy Turlington, Mariska Hargitay, and Rachel Weisz.
Enter to win one of 2 Emergency Repair Kits and 2 Boob Tubes. Email the following info to celebritybabyblogATgmail.com (make sure you replace AT with @).
Your full name, mailing address, and email address.
Name an industry award Boob Tube has won.
What's your problem? Describe the post-baby body part you'd most like to make over.
Make sure you put "

Mama Mio

" in the subject line in order for your entry to be counted.
Any entries that don't include all of the info will not be counted. The contest closes April 3rd at 7 am EST. (For terms & conditions, click here.)