Blythe Danner loves "the fluffy stuff" with grandkids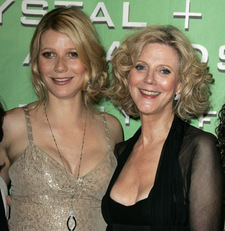 Squiring the kids away for a little one-on-one time is a favorite activity of many grandparents, and Blythe Danner is no exception. Taking Apple Blythe Alison, 3 ½, and Moses, 2 next week, to the park and farmer's market are just two of the ways the 65-year-old actress spends her days with her tots — and moments together rank high on her favorites list.
What isn't to love about being a grandmother?! Everything — all thefluffy stuff! I can't help it! The laughter and the tickling and justhaving the best time in the world. And just feeling so loved! They're pretty fabulous. Yesterday mylittle grandson says, 'Don't go! Don't go!' You just don't get thatkind of love from everybody.
With son-in-law Chris Martin and daughter Gwyneth Paltrow both working parents, Blythe approves and admits that it is a difficult juggling act — one that she has been through herself in the past.
She's a great, wonderful actress. But motherhood is very important toher, as it was to me, and she's finding the balance. And it's hard tofind that balance.