Tina Fey recalls nesting with Alice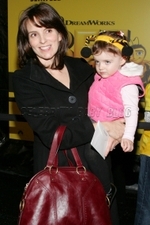 For some women the nesting instinct that occurs shortly before a baby arrives means getting down on their hands and knees and scrubbing the floor the old-fashioned way, or purging their closets of all unnecessary clutter. For actress and writer Tina Fey, 37, it meant reaching for a certain brand of air freshener!
Yes. [the nesting instinct] kicks in. I started spraying everything with Febreze because things started to smell weird to me. You get everything ready. I'm pretty organized — or I used to be. I feel like that part of my brain has atrophied.
Tina's daughter Alice Zenobia is 2 ½.
Source: Readers Digest