Nicole Richie to launch her own maternity and accessories line
by auditioning contributor Carlie: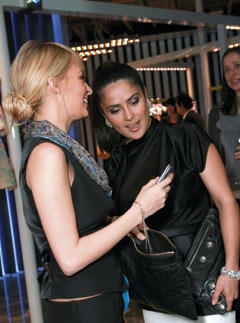 Nicole Richie, 26, has announced she is about to launch her own maternity clothes line for pregnant woman.After giving birth to 11-week-old daughter Harlow Winter Kate in January, she says her clothing range will make women "look and feel good," taking notes from Balenciaga designer Nicholas Ghesquiere, whom she wore during her pregnancy and became "one of my main inspirations."
Speaking to WWD at the Balenciaga store opening this weekend, Nicole shared,
My line will be about making women look and feel good at a reallyemotional time. It's about showing your best self, not your tired,worn-down self. Guys don't go through that, they just don't understand.
The Simple Life star will launch her maternity wear later this year along with her own jewelry range that she has designed with Mouawad. She tells People,
It's all costume jewelry. I like to play with jewelry and mix and match. I'm working with this really talentedwoman named Shelley Gibbs. She's an artist and she sketches everything. Everyone's been really mellow and able to work around my schedule. If I need to go feed the baby, I do it.
The evening of the Balenciaga launch, however, Nicole didn't need to worry about nursing — instead, she focused on sharing baby photos with actress Salma Hayek, 41, mom to her own daughter, 6-month-old Valentina Paloma.
Source: WWD via Marie Claire UK; People