Kristi Yamaguchi may have a potential professional dancer in daughter Keara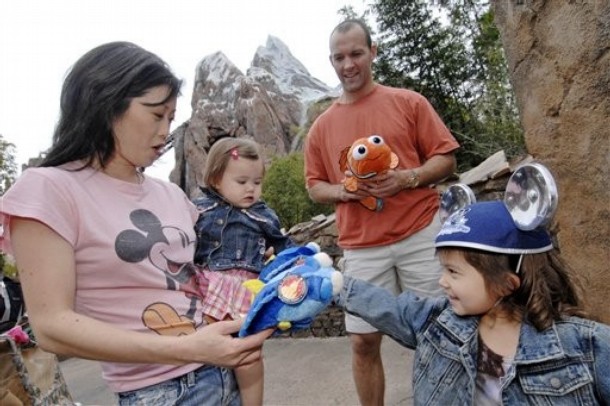 Dancing With the Stars contestant Kristi Yamaguchi may just have a future professional dancer on her hands. Oldest daughter Keara Kiyomi, 4 ½, appears to enjoy copying her mom's dance moves. In a new blog entry, Kristi reveals,
Keara has been watching both dances over and over on YouTube, and if I play the music to my mambo, she does most of the choreography already! It's so funny! She actually dances it almost completely along with me. Mark [Ballas] is like "Hey, get her in ballroom. She's going to be really good!" So maybe I have a future pro on my hands!
Speaking of Kristi's children, the figure skater hates being away from Keara and Emma Yoshiko, 2, and considers it one of the hardest things she has ever done.
As you know, my kids flew into L.A. last week, so it's great to be with them again. This is a fun show to be on, but it's hard to spend so much time away from the family. It's great to have them here. I think they're used to having me around a lot more so every day, they're like, "Oh, we miss you, mommy!" But it's been great. My mom's been here and she's been great with the kids.
Continue reading for more of Kristi's blog entry.
They're going to stay through to Wednesday, then they're going to the San Francisco area where my parents and brother and sister live to spend a little time there. It's their cousin's first birthday so we're trying to get some cousin time in. Then they'll come back –- hopefully.

I don't know if they'll ever come to a taping in the audience because they're too young, but they did watch last week's show in a trailer. Their attention span isn't that long so they'll mostly watch mommy and that's it! I think they'll stay at home and watch it tonight. They had a lot of fun though. They love it here and being able to watch me dance.
Kristi is married to NHL player Bret Hedican.
Source: OK! Magazine
Thanks to CBB reader Shawna.