Denise Richards talks about life lessons for daughters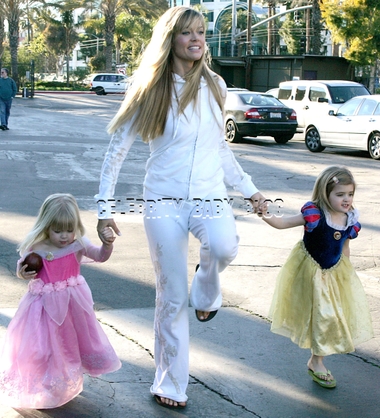 There are a lot of lessons that Denise Richards says she'd like to impart to her daughters Sam, 4, and Lola Rose, 2 ½, and perhaps the most important one of all comes courtesy of their late maternal grandmother Joni. She succumbed to cancer in November 2007, but Denise says her mom displayed an "inner strength" even at the end "when things were really dire." Says Denise,
I want to teach my girls the importance of picking yourself up and moving forward.
Her comments come in the context of a new interview with Shape magazine, in which the 37-year-old actress also discusses the importance of raising the girls to have a positive body image. Sam and Lola are often playing nearby while Denise exercises "almost every day," so the girls are "learning by example" about the need to stay physically fit. At the same time, Denise says that she's careful not to leave Sam and Lola with the impression that being physically fit is all that matters.
I'll never talk about weight around them. And they'll never hear me say, 'Mommy's feeling fat today.' That kind of attitude just makes young girls grow up to be dissatisfied with their bodies.
Sam and Lola are Denise's daughters with ex-husband Charlie Sheen.