Tiffany Fallon at Celebrity Apprentice finale
Celebrity Apprentice's Tiffany Fallon posed at the show's finale on Thursday, March 27th with fellow contestant Nadia Comaneci. The 33-year-old former Playmate of the Year expects her first child, a baby boy, with husband Joe Don Rooney of Rascal Flatts in May.
Source: Tiffany's MySpace Page
Thanks to CBB reader Kodie.
Click below for info on Tiffany's dress.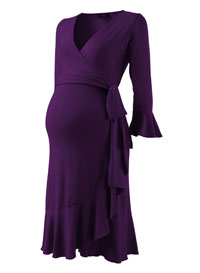 Tiffany wears Isabella Oliver's ruffle wrap dress in plum ($175).