Update: Contest: Win Jewels and Pinstripes Celebrity Bump Bag!
Update: The winner is CBB Reader Jackie and her sister Sandra. Jackie wrote,
Sandra is my only sister, older by 16 months. She is 7 1/2 months pregnant with her first child, a girl she would like to call Eva Margaret. Margaret is after our Grandmother. Sandra is my best friend and I have loved being part of her pregnancy. She shares all of the highlights with me. I've even sat in on the anatomy scan. She's been my best friend for years and years and she's always supported me through all of my trimuphs and mistakes. She is generous and giving to everyone in her life and never asks for anything in return. Instead of having a wishing well for her baby shower, she asked that everyone bring diapers or essential baby items that she will then donate to charity (mothers in need). She's just wonderful and I know she will make the best mom.
---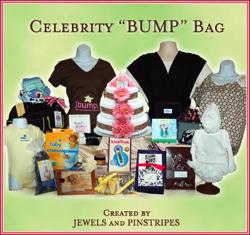 Enter to WIN a fabulous Celebrity "BUMP" Bag valued at over $2500 for you and your little one!
Are you or is one of your friends expecting a little one soon? Jewels and Pinstripes, creator of VIP Gift Bags for Charity and High Profile Events, wants to celebrate with you! Our Celebrity "BUMP" Bag includes some of the latest and greatest baby items out there, and we want to give it to you! We have designed these bags for several stars such as Jennifer Lopez, Angela Kinsey, Melissa Joan Hart, Brooke Burke and Tony Hawk's wife Lhotse just to name a few, filling them with the most necessary and trendy mommy and baby products from companies such as Divine Basics, BabyPlus, Simply Divine Brownies, Baby Kaed, Boatman Geller, Happy Heinys, Baby Emi Jewelry, Baby Be Mine Maternity, Bloomers Baby, Brown Bag Botanicals, My Baby Nest, Baby Kick, Bump Babies, and Sweet Shoes.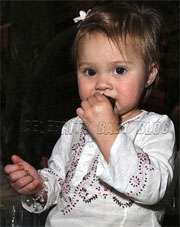 Not too long ago, Brooke Burke's daughter Heaven Rain Charvet was photographed wearing a bracelet from Baby Emi Jewelry, a Celebrity Bump Bag Participant.

Another Celebrity "BUMP" Bag is also be auctioned off through April 1st with proceeds benefiting The Plasticos Foundation on Charityfolks.com.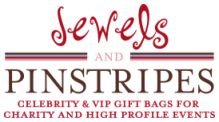 Enter to win Jewels and Pinstripes' Celebrity "Bump" Bag . To enter, email the following info to celebritybabyblogATgmail.com (make sure you replace AT with @).
Your full name, mailing address, and email address.
Visit Jewels and Pinstripes and tell us which five products contained in the bag that you're most interested in and why.
What is The Plasticos Foundation?
Who will be the incredibly lucky person who will get this awesome bag if you win it and why do they deserve it?
Make sure you put "

Celebrity Bump

Bag" in the subject line in order for your entryto be counted.
Any entries that don't include all of the info will not be counted. The contest closes April 1 at 7 am EST. (For terms & conditions, click here.)