Jennifer Garner's Mommy Makeover — Week 2: Gear and Accessories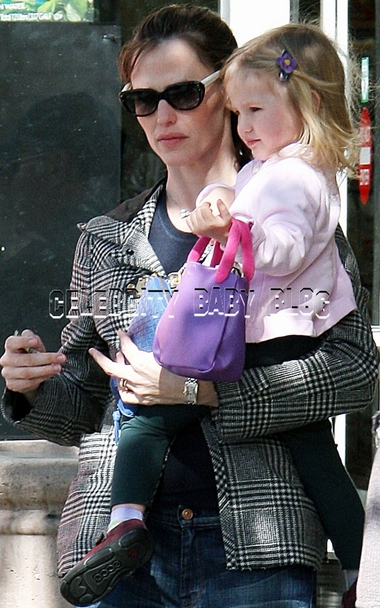 Jennifer Garner is almost always seen carrying her adorable tot, Violet Anne Affleck and we've been hard pressed to find Jennifer carrying any type of typical diaper bag. But that doesn't stop us from dreaming up a combination we'd love to see her use.
Last week we suggested some clothes to get her from play date to date night, this week we'll take a look at what gear and accessories (diaper bag, stroller, baby carrier) would work great for this laid-back chick. Click continue reading below to see what gear we recommend for Jennifer.
Diaper Duty
We really think that Jennifer's minimalist style calls for a very simple diaper bag. She would never carry anything outlandish and it would have to be very simple in color scheme, so it can go with everything. We also think that she would prefer a messenger style or backpack style to tote Violet's stuff. For those reasons we think Dante Beatrix's bags are the perfect pick.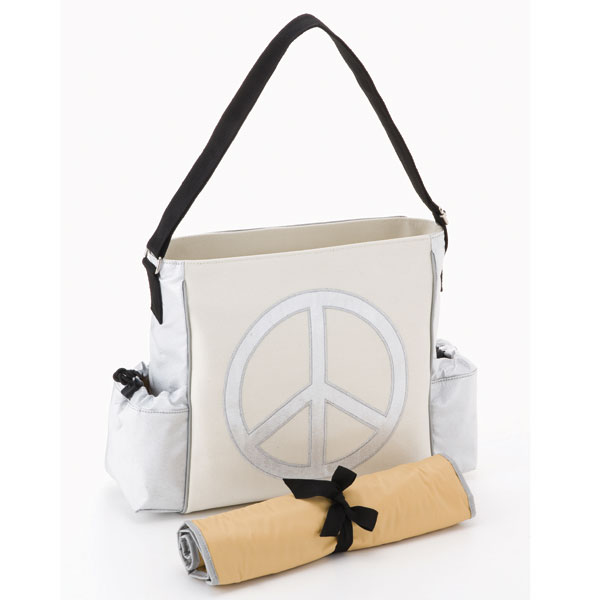 The Dante Beatrix Stroller Tote (right, $110) is the quintessential diaper bag for toddler moms who are always on the go. It's a messenger style bag that has one main body section with a zippered compartment on the inside and two open pockets, perfect for storing mom's cell phone or blackberry! On the front of the bag is a simple graphic, we love the peace sign (a favorite of Marcia Cross) but there's also a heart and star design, or even stripes if you prefer to tone down your political statements. On the back side of the bag are two clips for securing the bag to a stroller and two additional, handy pockets.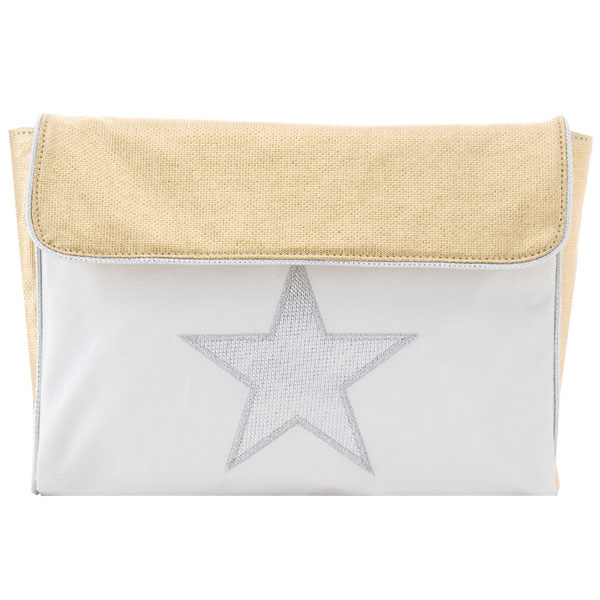 To complete this bag ensemble we also recommend the Dante Beatrix Envelope (left, $36). Jennifer can use it when she's out on a quick errand or just wishes to carry diapers or other small items with her. It has a zippered pocket on the inside that can hold personal items and it features a strap that is completely removable. She could even use it as her everyday handbag, if she desired! It also comes in matching designs to the Stroller Tote for a great coordinated effort. With these two bags, Jennifer would have all her hauling needs covered.
Get Your Stroll On
Jennifer currently owns the Bugaboo Gecko stroller, the most simplified and minimalist Bugaboo there is — it makes perfect sense really! She's also been spotted in the past pushing Violet around in a Maclaren Techno XT 2006, another perfectly simple stroller. As anyone with a 2 year old can contest, getting your child to sit contently in their stroller for long periods of time can be hard. We have also noticed Jennifer actually carrying Violet quite a bit of the time.
So, while we know that a stroller isn't a high priority on her list right now, we really think Jennifer would like the BOB Revolution Stroller (right, $359). The 2008 model comes in several new colors, including a stunning chocolate brown and blue combo. Jennifer would be joining celebrity BOB fans Kate Hudson and Bridget Moynahan in grand stroller style.
Don't let this stroller fool you, either; the jogging title really takes away from everything it does. It has a fabulous suspension system that glides effortlessly over all kinds of terrain. The seat is roomy and comfy and features two handy pockets in the side. Parents rave about this stroller and even claim it's the only stroller their toddler wants to ride in once they get one. This could be a score for little Violet as well.
Carried Away
Much like the stroller, we know that Jennifer is probably getting away from baby carriers. But since we know she loves to carry Violet around, she really might want to reconsider. Many moms think once their child can walk that they are too big for baby carriers, but this is simply not the case. It's true that some children no longer like the carriers past a certain age. But if you get the right one — a versatile one with many hold options — you might just find your toddler doesn't mind it and you can lessen the strain on your back and free up your hands. We have two carriers we think Jennifer (and Violet) would like and get some use out of.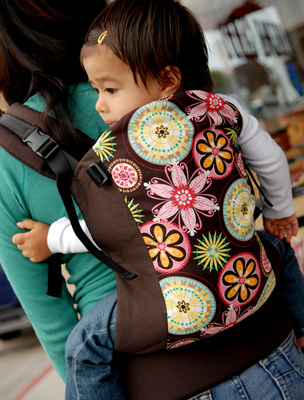 The first choice is the Beco Baby Butterfly Carrier (left, $139). This baby carrier is wonderfully versatile, as it can be worn with baby on the front or the back. Since Violet is not a baby anymore, we had to make sure to find a carrier that would support her toddler size, the Beco Baby Carrier can support a child up to 45 lbs. It also has ergonomically curved shoulder straps that help reduce tension and a three section ergonomic waist belt.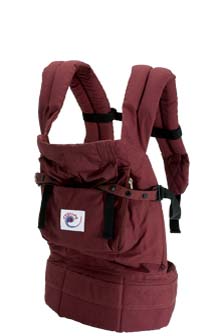 Our other carrier pick for Jennifer Garner is the ERGObaby Carrier (right, $92). ERGObaby has one of the most durable carriers on the market as it has been tested to support a child up to 90 lbs, though they recommend using up to 40 lbs. It also is extremely simple, comes in very neutral and natural color selections and is made from the finest cotton materials (they even have organic ones). Violet can be placed on the hip, front or back and the ERGObaby offers exceptional support to Mom's back the entire way. Jennifer wouldn't be the first celeb to sport an ERGObaby Carrier, Amanda Peet, Bridget Moynahan and Elisabeth Hasselbeck all have used one.