Kim Johnston Ulrich supports son but doesn't quite understand the game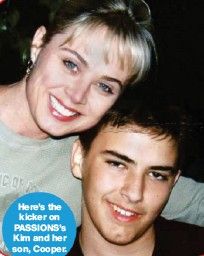 Passions' Kim Johnston Ulrich, 53, admits that she and husband, casting director Robert Ulrich, didn't plan on their 15-year-old son Cooper being a sports star. In fact, sports weren't a big part of Cooper's childhood.
We weren't expecting it. We were taking him to musicals and theater when he was growing up. The only reason we ever watched the Super Bowl was because I was in the commercials for Nightingales years ago. Then Cooper became this football fanatic. Now, we go to every game.
Kim is the first to admit that although she attends the games, she doesn't really understand what is going on.
You'd think I would know football terms, but I still don't. I was a cheerleader, too, and I still don't know what 'first and 10' means. Cooper tries to explain it to me and gets so frustrated. I just say, 'Honey, if you're not throwing or catching the ball, I don't know what you're doing.' But I do tell him he looks good in his uniform. [laughs]
Kim and Robert are also parents to daughter Tierney Joy, 8.
Source: Soap Opera Digest, April 1st issue